In the fourth quarter of 2019, patent litigation activity continued to climb as defendants faced ongoing headwinds, including judicial rulings casting uncertainty over several areas of patent law.
District court filings in the fourth quarter came in more than 10% higher than the same period in the previous year, as 2019 ended with nearly 5% more litigation overall compared to 2018. In 2019, NPEs added over 20% more defendants than in 2018 and accounted for the greatest share of litigation filed during each quarter last year—while operating company plaintiffs saw a yearly decline of more than 10% from 2018. Furthermore, although the geographic distribution of patent suits has settled down somewhat since TC Heartland, stakeholders continue to debate a Texas court's ruling, in Seven Networks v. Google, that a Federal Circuit judge has warned could reestablish "nationwide venue" for companies engaged in e-commerce and online services.
Additionally, defendants seeking to challenge patent eligibility have seen their ability to do so further constrained by the Federal Circuit's decisions in Berkheimer and Aatrix, which have effectively precluded the early resolution of Section 101 challenges in certain cases and have caused a significant and persistent drop in Alice invalidation rates. With the US Supreme Court's January 13 decision not to revisit Berkheimer, it appears possible that this will be the new normal. A cloud also hangs over the Patent Trial and Appeal Board (PTAB) as parties and courts debate the impact of the Federal Circuit's decision in Arthrex, which an RPX analysis indicates may subject hundreds of America Invents Act (AIA) reviews to rehearing through its holding that the appointment of PTAB administrative patent judges had been unconstitutional.
Meanwhile, the patent market has seen a renewed swell of patent assertion backed by waves of incoming capital, giving a boost to NPE players old and new. This includes Acacia Research Corporation, which has been ramping up its litigation activity as it pushes to expand, bolstered by funding secured through a recently announced partnership. Patent divestitures from Intellectual Ventures LLC have also continued to drive the filing of litigation, while RPX has noted an increase in activity by NPEs backed by third-party litigation funders.
Back to top
Litigation Snapshot: NPE Filings Drive District Court Uptick
Patent litigation increased by around 4.6% in 2019 over 2018, counted by defendants added to litigation campaigns (with 3,555 defendants added in 2019 versus 3,398 in 2018). That increase was driven by NPEs, which added 22.7% more defendants in 2019 compared to the previous year (with 1,995 defendants added in 2019 versus 1,626 in 2018). By contrast, operating company litigation fell by 12% last year from 2018 (with 1,560 defendants added in 2019 versus 1,772 in 2018). NPE litigation accounted for 56% of the defendants added in 2019—increasing from 48% in 2018.
In the fourth quarter of 2019, 926 defendants were added to patent campaigns overall, an increase of roughly 11.6% over Q4 2018 (during which 830 defendants were added), and about 3% less than Q3 2019. (By comparison, Q4 2018 fell by nearly 9% over the prior quarter that year.) NPEs accounted for 55.7% of the defendants added in Q4 2019 (516 defendants added), with operating companies adding 44.3% (410)—the fourth straight quarter in which NPEs added more defendants than operating company plaintiffs.
Defendants Added to Litigation Campaigns by Quarter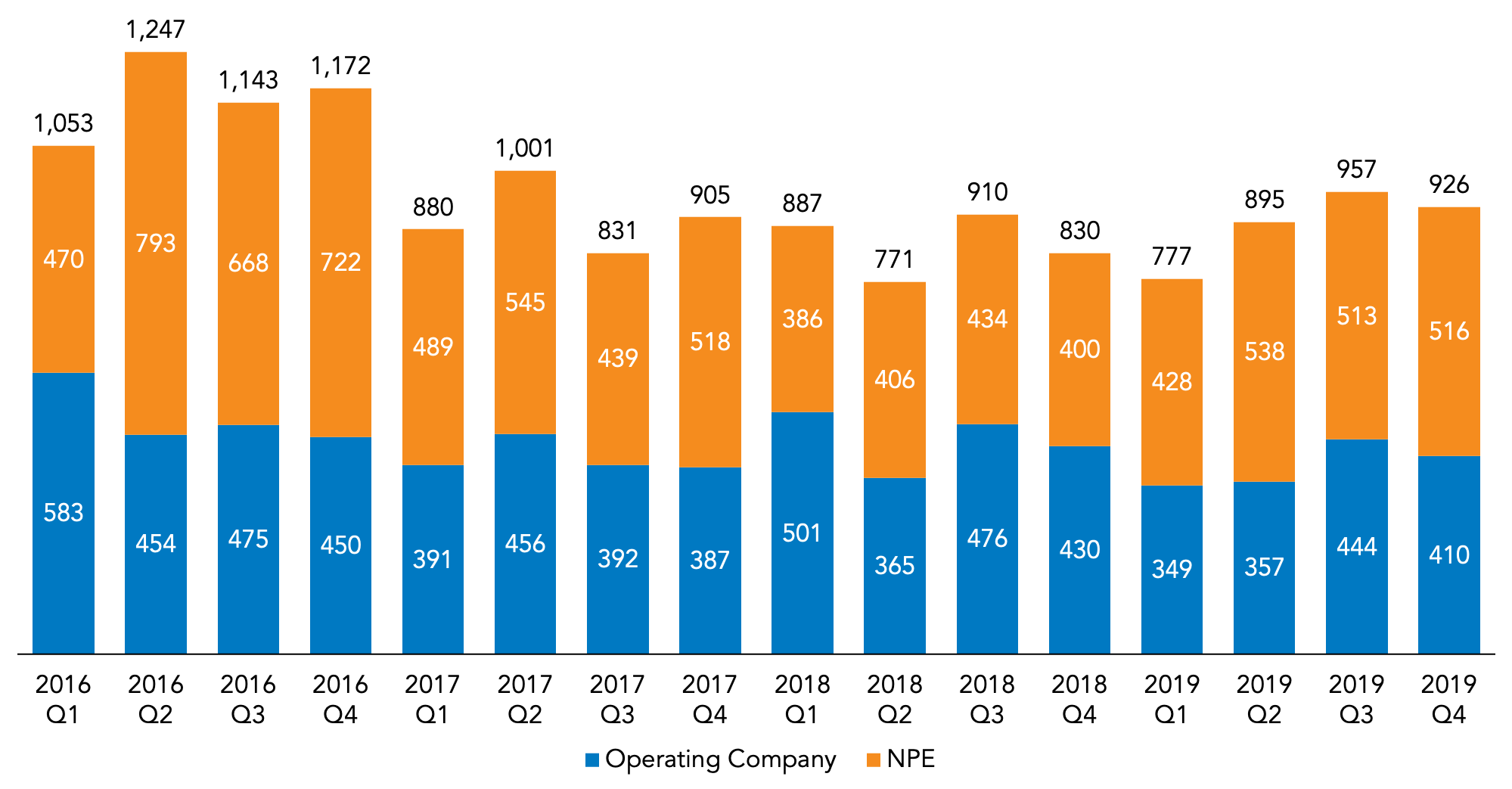 Defendants Added to Litigation Campaigns by Quarter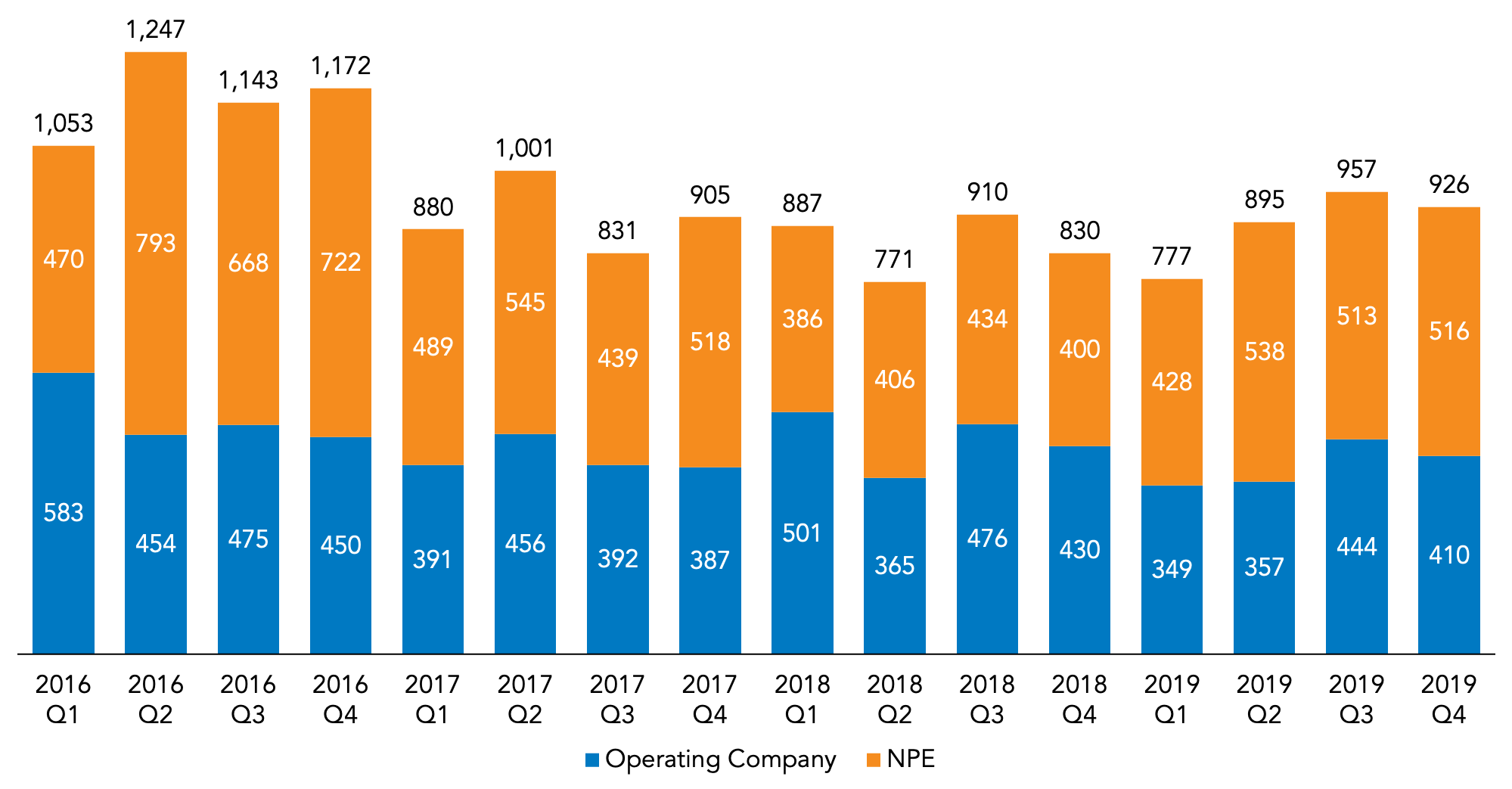 Back to top
Venue Update: West Texas Rises as Companies Fight Gilstrap Ruling
In the fourth quarter of 2019, the District of Delaware was the most popular district for patent litigation overall, also holding the top spot for both NPE and operating company litigation. For NPEs, the Eastern District of Texas—favored by such plaintiffs prior to the Supreme Court's TC Heartland decision—fell to third place, overtaken for second place by the Western District of Texas. The latter district has seen a surge in popularity following the confirmation of District Judge Alan D. Albright, who has established local rules designed to attract patent litigation in his district.
Gilstrap Bucks the Trend: Parties Debate Potentially Expansive Venue Ruling
While the distribution of patent litigation has largely settled down following TC Heartland, a 2018 Eastern District of Texas ruling has continued to cause uncertainty regarding the application of the patent venue statute's other prong, under which venue is proper in part where a defendant has a "regular and established place of business". In Seven Networks v. Google, District Judge Rodney Gilstrap denied a venue challenge under that prong, holding that certain Google servers maintained within third-party facilities in the Eastern District of Texas constitute a "regular and established place of business". The Federal Circuit decided not to revisit that decision after Google filed a petition for mandamus review, prompting a fiery dissent from Circuit Judge Jimmie Reyna—who argued that the decision could effectively "reestablish nationwide venue" for companies relying on similar computer equipment, further noting that courts had already started to apply Judge Gilstrap's decision inconsistently.
A second appellate battle is now brewing over this issue. In September, Google filed a mandamus petition (2019-0126) contesting the denial of a venue challenge in another campaign (waged by Acacia Research Corporation's Super Interconnect Technologies LLC) in which Judge Gilstrap found proper venue based on the same Google servers at issue in Seven Networks. Google's petition notes that other district courts have since "persuasively" rejected that decision, and highlights the potentially far-reaching consequences of Judge Gilstrap's ruling as possibly allowing venue anywhere a "physical object belonging to the company . . . were located". Those concerns were echoed in an amicus brief filed in support of Google's petition by 18 other companies, most of which are either engaged in e-commerce or offer online services. Those amici have argued that filing patterns have already been distorted by Seven Networks, in that it has caused "numerous lawsuits" to be filed in the Eastern District on "equipment-based theories". The resulting uncertainty has even caused some companies to "decommission . . . equipment" in that district in order to avoid suit, warn the amici.
Oral arguments were held in December, and given the case's potentially sweeping impact, stakeholders are likely watching it closely.
Back to top
Patent Eligibility Overview: Berkheimer Decline Persists
The Federal Circuit's February 2018 opinions in Berkheimer and Aatrix have significantly curtailed the application of Alice in district court litigation through their ruling that factual disputes over a patent's inventiveness may preclude early dismissal under Section 101. The result has been a significant drop in Alice invalidation rates. As of January 7, just under 45% of patents challenged and adjudicated under Section 101 since Berkheimer had at least some claims invalidated under Alice—a 23% drop from the period before Berkheimer's issuance, when around 67% of patents had claims cancelled.
Patents Invalidated Under Alice Before and After Berkheimer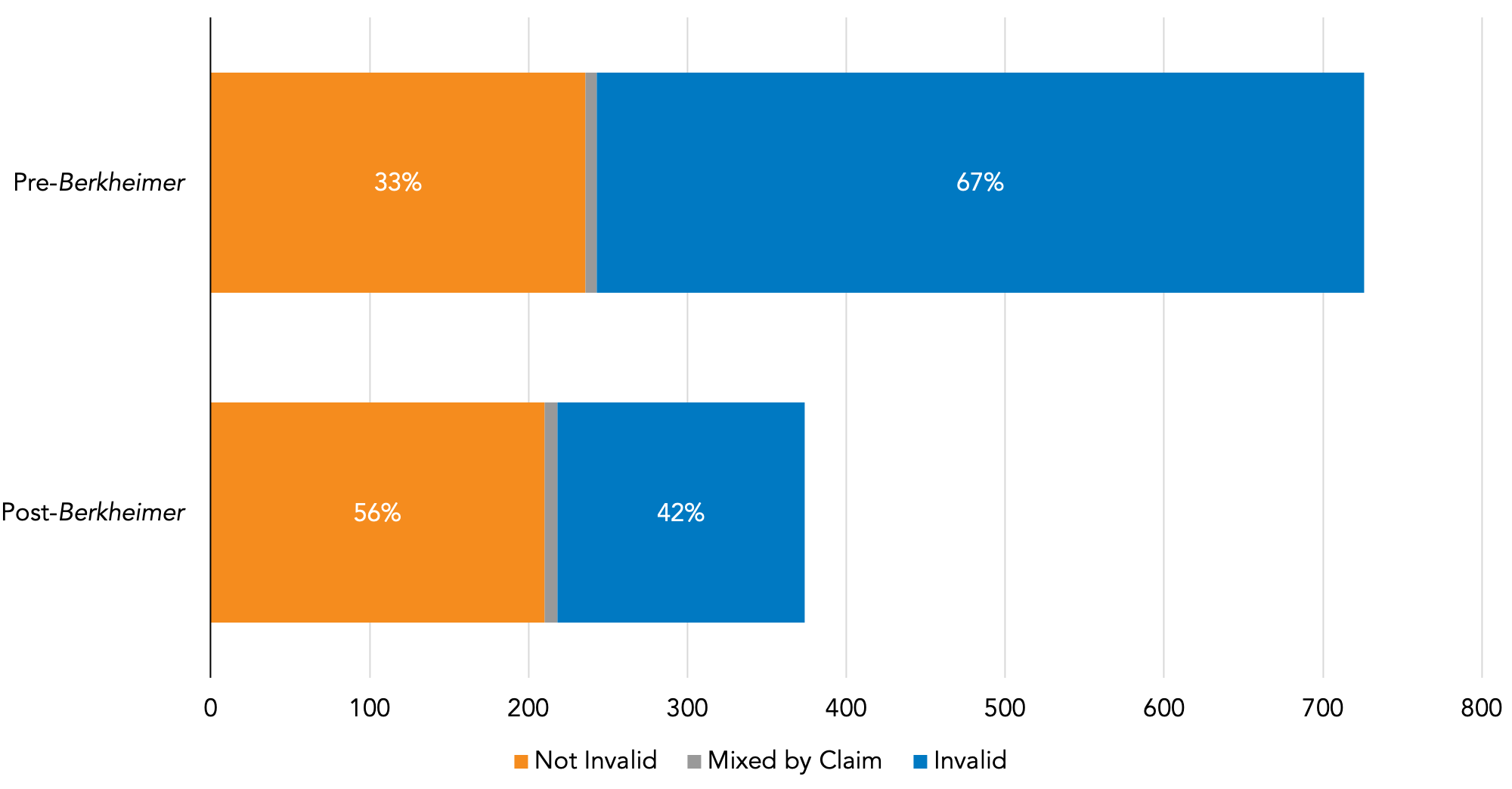 Patents Invalidated Under Alice Before and After Berkheimer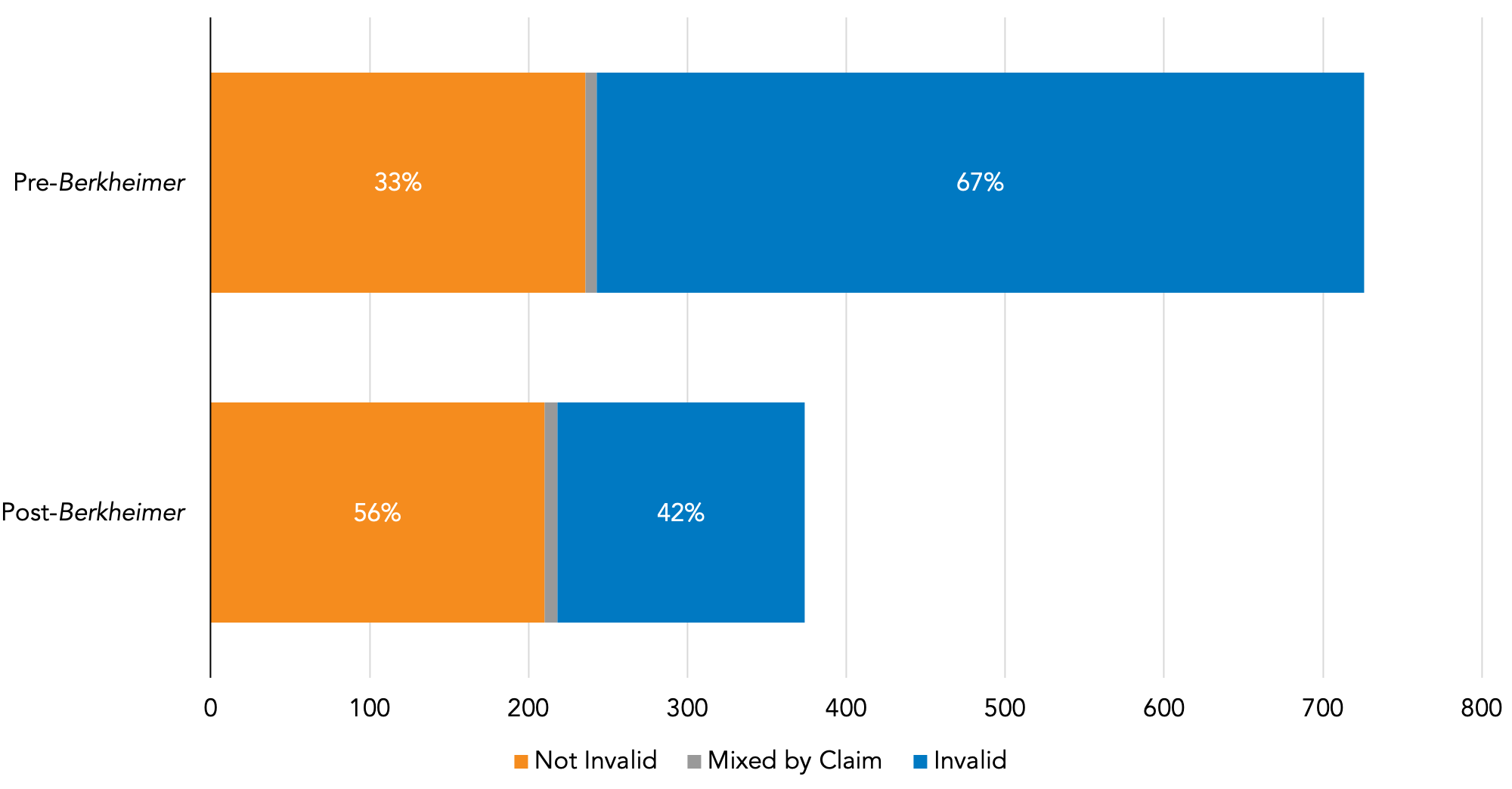 Some percentages add up to more than 100%, as patent claims occasionally see multiple Alice rulings with different outcomes. (For example, a claim may be found not invalid in one case and invalid in another.)
Some percentages add up to more than 100%, as patent claims occasionally see multiple Alice rulings with different outcomes. (For example, a claim may be found not invalid in one case and invalid in another.)
The data further show that both Rule 12 and summary judgment—by far the most common procedural routes to raise Alice—have each seen around the same drop as the overall invalidation rate. The share of patents invalidated under Rule 12 has dropped from 70% pre-Berkheimer to less than 45% in the time since, while the summary judgment rate has dropped from 59% to a mere 38%.
Patents Invalidated Under Alice Before and After Berkheimer by Procedural Stage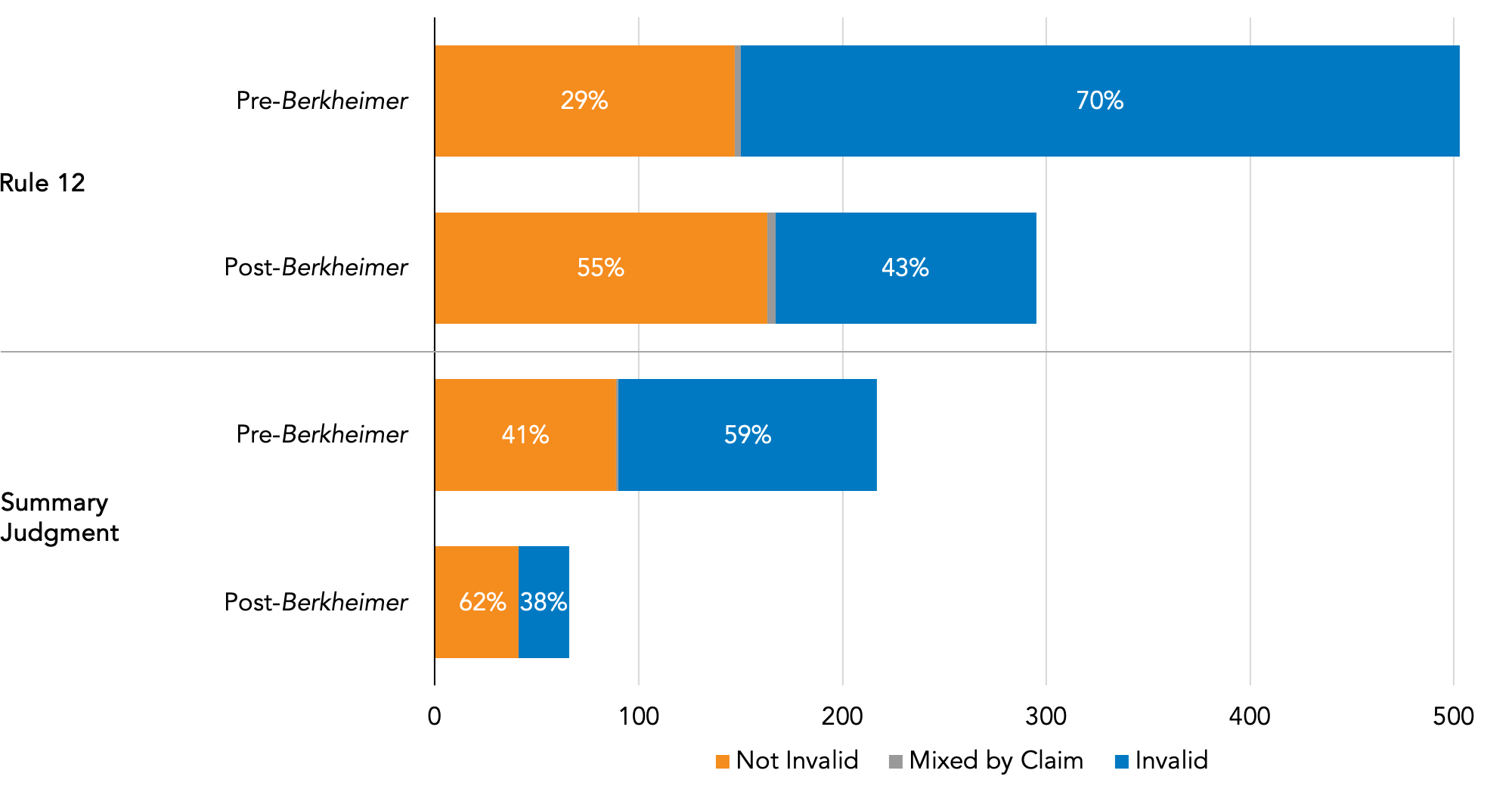 Patents Invalidated Under Alice Before and After Berkheimer by Procedural Stage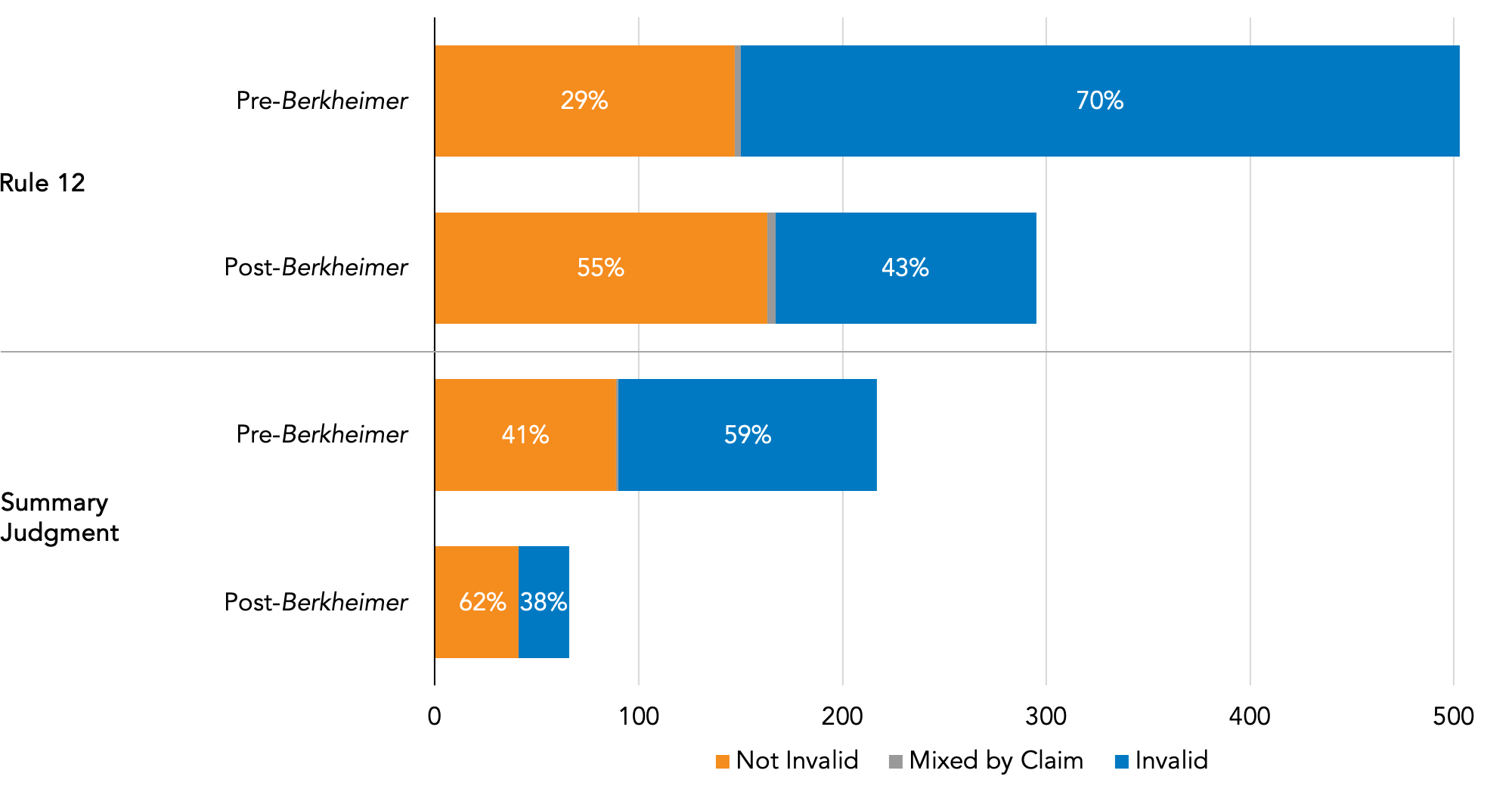 In all, since the Alice decision's issuance in June 2014, 60% of patents have seen claims invalidated under its rationale. Outcomes diverge based on plaintiff type; while operating company patents have an Alice invalidation rate of 52% during that period, around 65% of NPE patents saw claims cancelled.
Patents Invalidated Under Alice Since the Decision's Issuance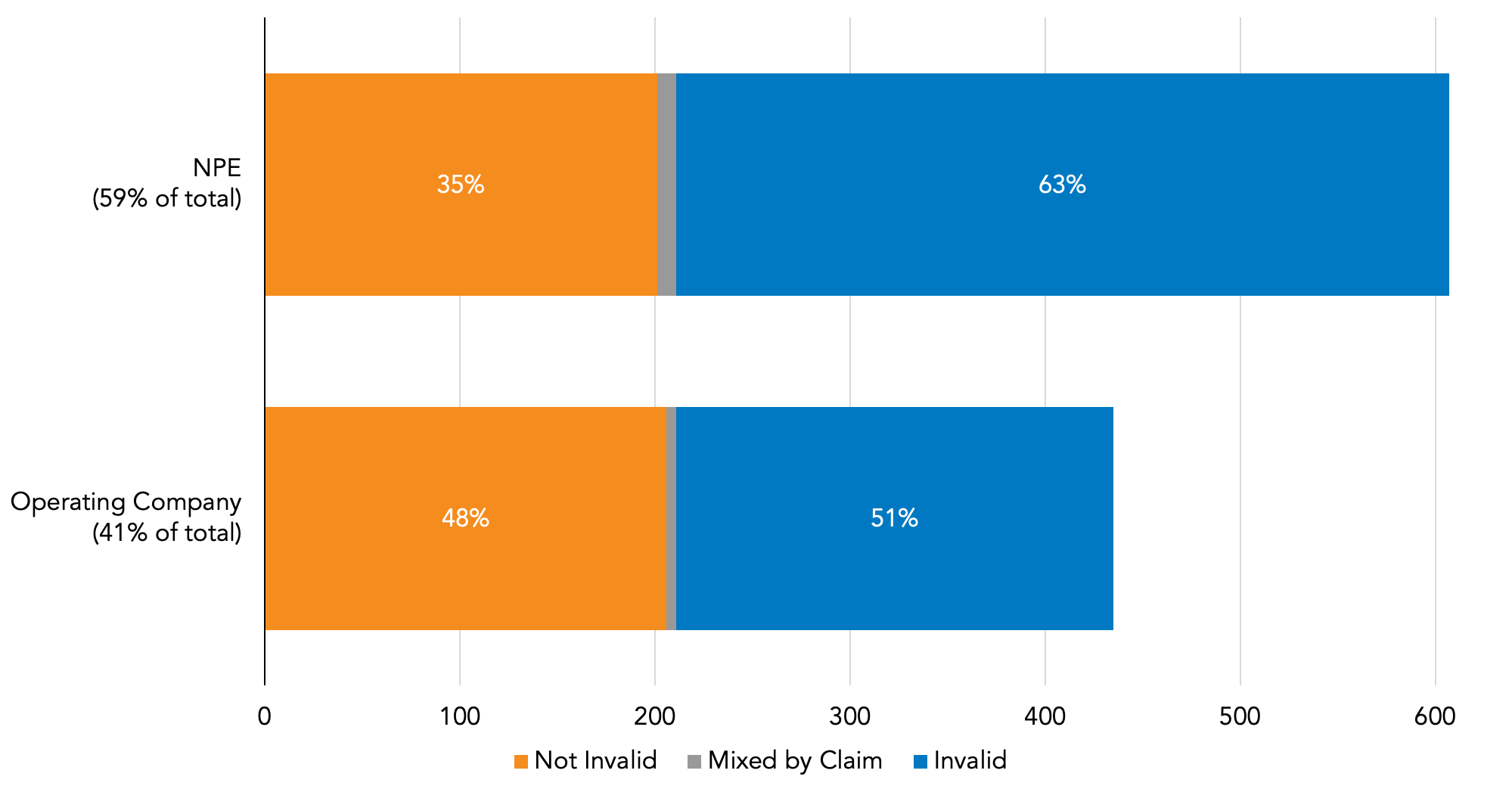 Patents Invalidated Under Alice Since the Decision's Issuance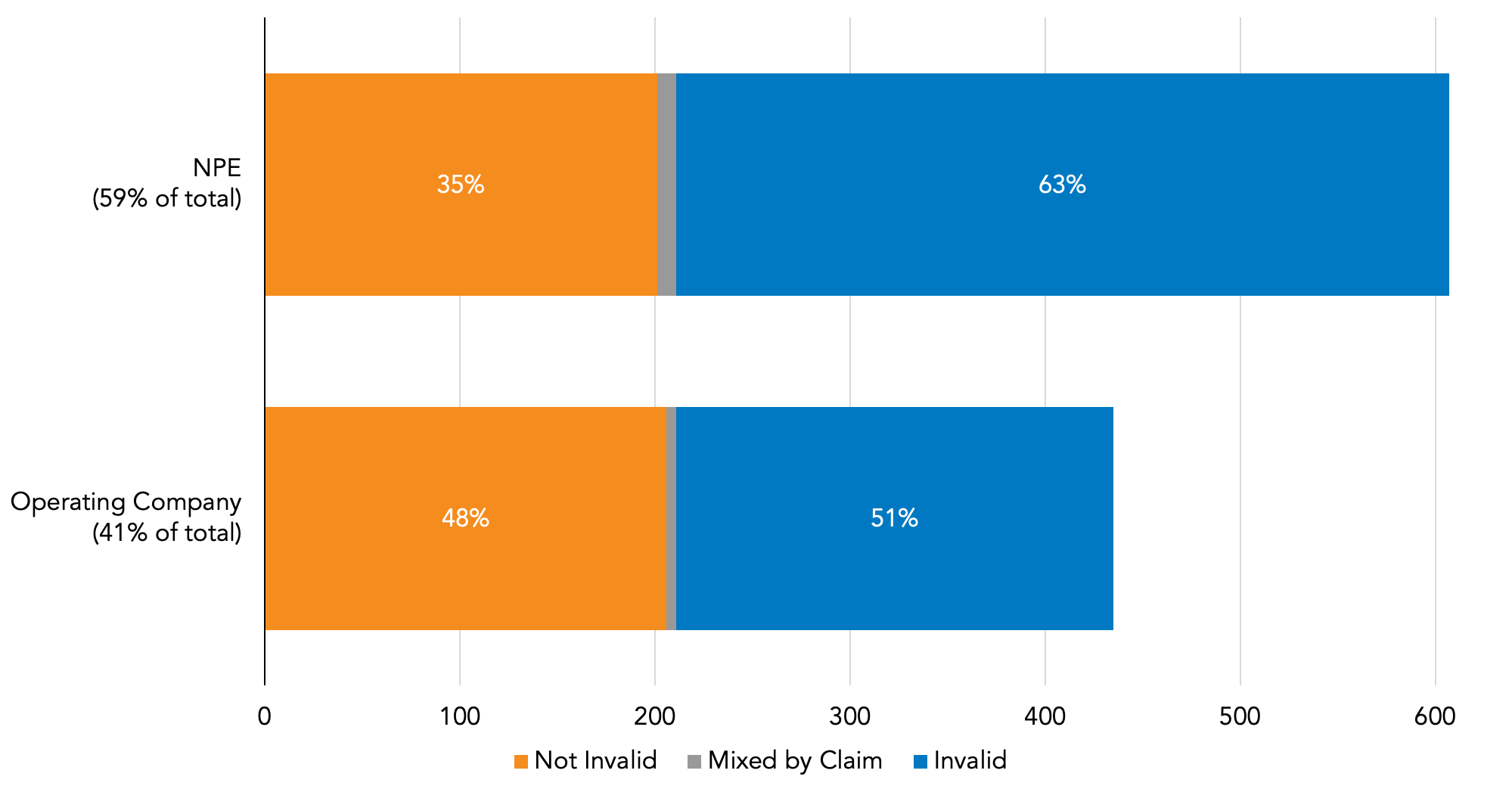 Limiting that data to Alice challenges decided in 2019, invalidation rates mostly converge: the overall invalidation rate was 43%, with an operating company invalidation rate of 42% and 44% of NPE patents seeing claims invalidated.
Supreme Court Declines Berkheimer Appeal
HP, the defendant in Berkheimer, asked the Supreme Court to revisit that decision in October 2018, but the Court did not address the company's certiorari petition until January 13, 2020—declining to review the case. That delay stemmed from the court's January 2019 request for the views of US Solicitor General Noel Francisco, who did not file the government's brief until December 6. The Solicitor General recommended against further review of Berkheimer in that brief, arguing that the Court should deny certiorari because Berkheimer primarily concerns procedural aspects of Section 101. Rather, the government argues that the Court should instead grant review of a case for which substantive eligibility standards are at issue "and then address any ancillary issues that remain".
See RPX's coverage for an overview of that brief, as well as a look back at Berkheimer's history before the Federal Circuit.
Back to top
PTAB Recap: Stakeholders Debate Arthrex as Iancu Implements More PTAB Reforms
In the fourth quarter of 2019, 332 petitions for AIA review were filed with the PTAB, including 317 petitions for inter partes review (IPR), five petitions for covered business method (CBM) review, and ten petitions for post-grant review (PGR). In total, Q4 saw about the same number of AIA review petitions as the previous quarter, and 30.5% fewer petitions than in Q4 2018.
The Scope of Arthrex
The Federal Circuit's October decision in Arthrex has cast doubt upon numerous invalidity proceedings through its holding that the appointment of administrative patent judges (APJs) by the PTAB is unconstitutional. In Arthrex, the Federal Circuit held that the statute governing PTAB judge appointments made the APJs principal officers who should have been confirmed by the US Senate. However, the Federal Circuit stopped short of overturning the AIA review regime altogether, limiting its decision in multiple key respects. In particular, the appeals court implemented a targeted solution to the constitutionality issue by severing the portion of the statute that restricts the APJs' removal in order to render them inferior officers. The court also limited the scope of its holding—requiring that an affected AIA review be reheard by a new panel—to those reviews in which "final written decisions were issued and where litigants present an Appointments Clause challenge on appeal", suggesting that proceedings already past the point of appeal may be unaffected.
The impact of that opinion could be sweeping, as a recent RPX analysis indicates that Arthrex may allow rehearings for more than 200 AIA reviews—affecting more than 50 active litigation campaigns in which the patents challenged in those reviews have been asserted. In that analysis, RPX assessed the number of AIA reviews possibly subject to rehearing by applying the same criteria used in an initial estimate of affected cases provided by the appellee in Arthrex, leveraging RPX's litigation database and proprietary metadata and performing an additional layer of manual review. See here for the full analysis.
The Federal Circuit has since faced growing calls to revisit its holding. On December 16, the US government sought an en banc rehearing in Arthrex, arguing that the appellant waived the right to bring its challenge and that the court should address the constitutional issue in another case. That same day, both parties also filed petitions for rehearing, with the appellee arguing that the Arthrex panel went too far and the appellant insisting that it did not go far enough.
Stakeholders are closely scrutinizing Arthrex, including the Patent Office itself. At a recent IAM event, Director Andrei Iancu reportedly stated that the USPTO was tracking the decision "very, very carefully" and "working closely with the Department of Justice".
Precedential Opinion Panel: Exploring the Bounds of PTAB Discretion and Refining Procedural Rules
Meanwhile, Director Iancu has continued to refine PTAB policy through the Precedential Opinion Panel (POP), which was created in September 2018 and is tasked with deciding issues of "exceptional importance" to the PTAB. Throughout 2019, the POP expanded the circumstances in which the PTAB may opt to exercise its discretion through the issuance of its own rulings and by designating existing PTAB decisions as precedential or informative. In November, the POP began considering another issue related to the PTAB's discretion when it agreed to review the question of whether the PTAB may offer its own arguments for unpatentability when weighing a motion to amend claims, in Hunting Titan v. DynaEnergetics (IPR2018-00600).
The POP also clarified various procedural rules for AIA review proceedings in the fourth quarter. On December 20, the POP issued a decision on rehearing in Hulu v. Sound View Innovations (IPR2018-01039) that clarified the evidence required to establish that a reference qualifies as a "printed publication", explaining that certain indicia of publication like a copyright date may be taken into consideration but are not per se sufficient. Additionally, in early December, the POP designed three decisions as informative, including two that provide guidance on the standard for establishing a sufficient rationale for combining prior art references (in another Sound View IPR involving the same parties, IPR2018-00582; and in Johns Manville Corporation v. Knauf Insulation, IPR2018-00827). In the third designated decision, issued in Ex parte Linden (2018-003323), the Board reversed the rejection of a patent application under Section 101, holding that the claimed steps were not a patent-ineligible mental process.
Back to top
Marketplace Trends: Acacia Ramps Up, IV Patents Spark New Filings, and Lit Funders Back More NPEs
Once a prolific patent plaintiff, Acacia Research Corporation's litigation efforts have been markedly reduced in recent years; however, with plenty of fresh capital and patents on hand, the publicly traded NPE appears poised for a resurgence. Meanwhile, Intellectual Ventures LLC (IV) divestitures continue to flood the patent market—and the courts—with no signs of stopping, and RPX has observed an uptick in activity by NPEs backed by third-party litigation funders.
Acacia's Revival
As recently reported by RPX, Acacia has been an increasingly active plaintiff since it underwent a late-2018 leadership shake-up led by activist investors, launching its first new campaigns since 2015 and reviving a series of older ones. Toward the end of Q3 2019, the NPE saw the appointment of a new CEO and CIO as well as the reconstitution of its board of directors. That board has reportedly been working to "advance" the company's IP business, with Acacia disclosing earlier in 2019 that its newly expanded licensing team was expected to "research and process" $20M of new IP capital expenditure by the end of the year—and stating that more assertion opportunities were in the pipeline. In September, CEO Clifford Press disclosed that the NPE's new "IP focused, absolute return strategy" will involve diversifying the company's business, including "adding new revenue streams" and augmenting Acacia's IP portfolio "through acquisitions and partnerships". The month before, Acacia itself became an activist investor through its acquisition of around 1.6M shares (about 5%) in Immersion Corporation for a reported $11M—joining hedge fund VIEX Capital Advisors, another large investor in Immersion, in calling for strategic changes to "enhance stockholder value".
Acacia's ongoing efforts to expand may also be bolstered by a partnership with hedge fund Starboard Value, which the NPE announced in November. Acacia will reportedly receive up to $400M "for strategic investments and acquisitions" from Starboard, with the hedge fund working "directly with Acacia" to identify and execute on opportunities for investments as well as strategic acquisitions.
While no such acquisitions have yet been announced, Acacia appears poised to have an especially active 2020.
The Ongoing Divestiture and Assertion of IV Patents
Throughout 2019, RPX noted IV continuing to peel off patents at a steady pace, including to NPEs. The result has been dozens of new NPE litigation campaigns launched this past year, involving assets acquired in 2019 and/or well beforehand. Some of those campaigns have been waged by familiar names like Dominion Harbor Enterprises, LLC, whose Monument Peak Ventures, LLC kicked off a campaign in November asserting former Kodak patents and targeting a range of consumer electronics. Also in November, Canadian firm Cedar Lane Technologies Inc. asserted former IV patents in its third and fourth campaigns of 2019, respectively targeting cable boxes and cloud-based conferencing systems. Late October saw Piracy Protection LLC, an NPE linked to LF Capital Partners, LLC, target digital rights management technology in a new campaign asserting former IV patents originating with Mitsubishi. That same month, Terrestrial Comms LLC—an NPE associated with monetization firm IPValuation Partners, LLC (d/b/a IPVal)—began asserting a former IV patent against telephone systems allowing the "live" screening of voicemail messages while they are being recorded.
Additionally, three existing campaigns asserting patents acquired from IV further expanded in the fourth quarter: the first campaign launched by American Patents LLC, which has targeted wireless networking technology and saw new litigation in November; a videoconferencing and screensharing campaign waged by Visible Connections, LLC, an NPE affiliated with Atlanta-based monetization firm IP Investments Group LLC (d/b/a IPinvestments Group); and an ongoing cloud security campaign pursued by Longhorn HD LLC.
As NPEs continue to assert former IV patents, IV shows no signs of slowing down the outflow of its patents. In fact, public records suggest that more IV divestitures may soon be coming.
RPX has published a comprehensive, members-only report identifying the top NPE assignees of IV divestitures over the past four years and briefly summarizing campaigns resulting from notable transactions. The most recent version of that report can be downloaded from RPX Insight here.
A New, Better-Capitalized Breed of NPEs
Litigation finance firms have experienced record fundraising in recent years, with secondary investors like private equity firms and hedge funds looking for opportunities to invest in uncorrelated assets that can withstand, or even perform well in, the next economic downturn. With third-party litigation funders reportedly awash in capital and increasingly attracted to patent litigation, a new breed of NPEs has emerged—one backed by more copious and patient capital than those of years past.
Current investors in patent litigation include familiar players in the litigation funding and finance industries, as well as lesser known firms. The former category includes private equity firm Centerbridge Partners, which manages over $25B in assets and, in the NPE financing context, is notable for funding Fundamental Innovation Systems International LLC, which has litigated a portfolio of former BlackBerry patents in a campaign targeting USB power adapters. Another well-known investor is Magnetar Capital, a hedge fund with around $12.9B in assets under management and which holds shares in at least three Irish NPEs, each currently waging a US campaign. Additionally, private equity firm Brevet Capital announced last February that it had purchased multiple entities affiliated with Leslie Ware's PanOptis Holdings, LLC, including litigating NPEs Optis Cellular Technology LLC; Optis Wireless Technology, LLC; and Unwired Planet, LLC—an announcement closely followed by the first new PanOptis litigation in years.
Lesser-known litigation funders, meanwhile, include Dynamic IP Deals (d/b/a DynaIP), with a disclosed interest in at least four NPE litigation campaigns, including three launched in 2019; multi-billion dollar investment manager Empyrean Capital Partners, which holds an interest in at least two NPE campaigns started in 2019; and Randolph Square IP—a patent-focused investment and analytics boutique—which reports investments in over 25 patent cases and is backing an NPE's wireless earbud campaign that kicked off in 2019.
RPX publishes a periodic, members-only report on the primary sources of capital for NPEs today. The latest iteration of that report, which provides overviews of more than 20 third-party litigation funders known to have backed NPEs, can be downloaded from RPX Insight here.
Back to top
Policy Primer: USPTO and DOJ Back SEP Injunctions
2019 brought with it increased scrutiny of standard essential patent (SEP) licensing practices, and one of the most significant developments of the year for the US was the government's shift in antitrust enforcement policy with respect to such disputes—culminating with a new policy announced in December that favors the availability of injunctive relief for SEP holders.
First, some background: as a general matter, SEP holders commit to a given standard-setting organization (SSO) that they will license their patents on fair, reasonable, and non-discriminatory (FRAND) terms, and the violation of that commitment has the potential to constitute anticompetitive behavior from an antitrust perspective. When a patent owner asserts a SEP in a manner designed to improperly obtain higher licensing fees than would have been possible before the patent was declared standard-essential, or to exclude an accused infringer from the market altogether, that behavior is commonly called "hold-up". In contrast, "hold-out" occurs when a potential licensee declines to take a license to a SEP, forcing the patent holder to turn to litigation.
Prior to the current administration, US antitrust enforcement policy focused more on the hold-up problem, which was formalized in a 2013 joint policy statement issued by the Department of Justice's (DOJ's) Antitrust Division and the USPTO. The statement expressed concerns over the anticompetitive effects of injunctive relief as used to gain leverage in SEP disputes and asserted that injunctive relief may be "incompatible" with the FRAND licensing commitment. While acknowledging that an injunction may be appropriate in some circumstances, the statement asserted that such relief would generally be against the public interest where the accused infringer is "acting within the scope of the patent holder's [FRAND commitment] and is able, and has not refused, to license on [FRAND] terms".
In December 2018, Assistant Attorney General Makan Delrahim announced that the Antitrust Division would withdraw from the 2013 policy statement, stating that the prior policy—that it should be a violation of antitrust law for a SEP holder to seek injunctive relief—was "wrong as a matter of antitrust law and bad as a matter of innovation policy", and that it did not serve the public interest. Rather, Delrahim argued that patent law, as articulated through the requirements for granting injunctive relief established in eBay, already strikes a "careful balance" between innovation and the public interest. To the extent that the prior policy statement had been read as imposing a "special set of rules" for SEP injunctions, this would no longer be the case.
One year later, in December 2019, the USPTO and the National Institute of Standards and Technology (NIST) joined the DOJ in formally rejecting the 2013 policy statement, replacing it with a new joint policy statement addressing remedies in SEP disputes. This statement established that while a SEP holder's FRAND commitment is a "relevant factor in determining appropriate remedies", such a commitment "need not act as a bar to any particular remedy". The agencies went on to state that both injunctions and damages should be available as remedies for the infringement of SEPs subject to a FRAND commitment, and that the framework for determining those remedies should be the same as other cases—emphasizing that "there are no special rules limiting" such remedies.
See RPX's previous coverage for more details on this policy shift prior to the issuance of the December policy statement, including an overview of stakeholder responses.
Additional RPX Patent Market Intelligence
For further analysis and up-to-date information on patent litigation and market trends, visit RPX Insight.
Back to top