Patent litigation filings continued to increase in the third quarter of 2019 against a backdrop of change in the courts and at the USPTO, as parties adjusted to a series of incremental reforms that tended to shift leverage toward patent plaintiffs.
In particular, the third quarter saw multiple avenues for challenging patent validity become even narrower. Perhaps most affected was Alice, as the impact of the Federal Circuit's February 2018 decisions in Berkheimer and Aatrix has further crystallized. RPX data shows that the decline in patent invalidation rates observed since those decisions—which restricted courts' ability to invalidate patents under Alice when their inventiveness is in dispute—extended into Q3. By elevating the importance of subsidiary factual issues in the Section 101 analysis, Berkheimer and Aatrix have also led courts to further refine their approach to patent eligibility. In addition, USPTO Director Andrei Iancu has continued putting his stamp on the Patent Trial and Appeal Board (PTAB), spearheading a series of precedent-setting decisions that have largely favored patent owners—including the expansion of various rules limiting the availability of America Invents Act (AIA) review.
Also in the third quarter, the debate proceeded in Congress over a pair of legislative proposals that would dramatically reshape the US patent system. In September, the Senate Judiciary Committee's IP Subcommittee held a series of hearings over the STRONGER Patents Act, which would curtail inter partes review (IPR) and make it markedly easier to win an injunction, effectively revoking the US Supreme Court's eBay decision. Stakeholders also continued to debate a bipartisan bill that seeks to largely eliminate caselaw on Section 101, including Alice, but would significantly expand the scope of functional claiming under Section 112(f).
Additionally, the third quarter saw a newly resurgent Acacia Research Corporation launch its first new campaign in over four years and Quarterhill Inc. start its first new campaign of 2019—with USPTO records suggesting that both publicly traded NPEs have more litigation in the pipeline. Meanwhile, RPX continued to track the spread of former Intellectual Ventures LLC (IV) patents, including the second of two IV portfolios acquired by a Native American tribe that has previously dabbled in patent assertion.
Back to top
Litigation Update: Filings Increase for Second Quarter in a Row as West Texas Climbs the Charts
RPX data shows that plaintiffs added 1,007 defendants to district court patent cases in the third quarter of 2019, around 10.4% more than that same quarter last year (which saw 912 defendants added). The third quarter also outpaced Q2 2019 (which saw 902 defendants added) by 11.6%. Operating companies filed 46.7% of new litigation in the third quarter, while NPEs filed 53.3%.
Defendants Added to US District Court Litigation Campaigns Quarterly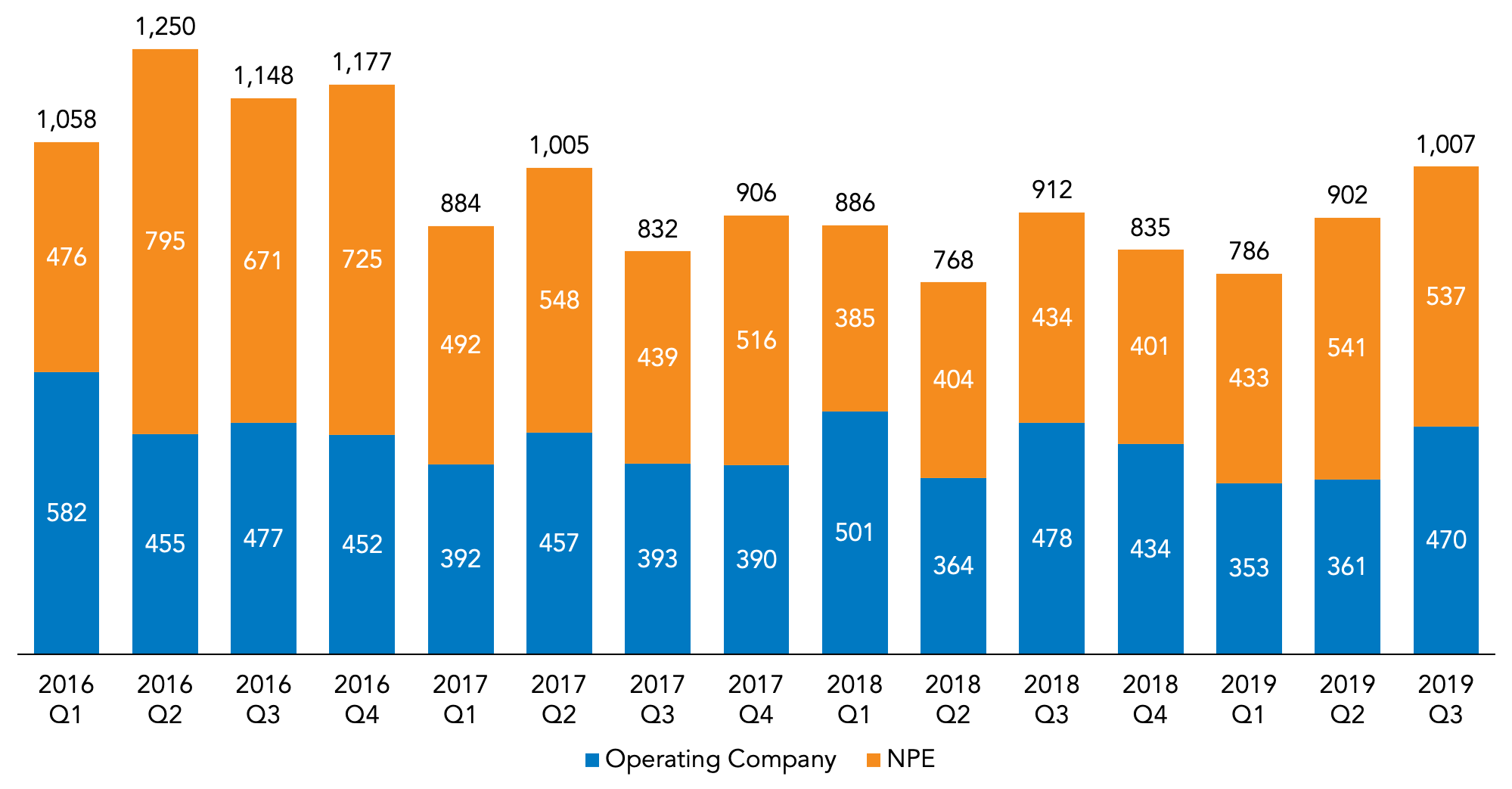 Defendants Added to US District Court Litigation Campaigns Quarterly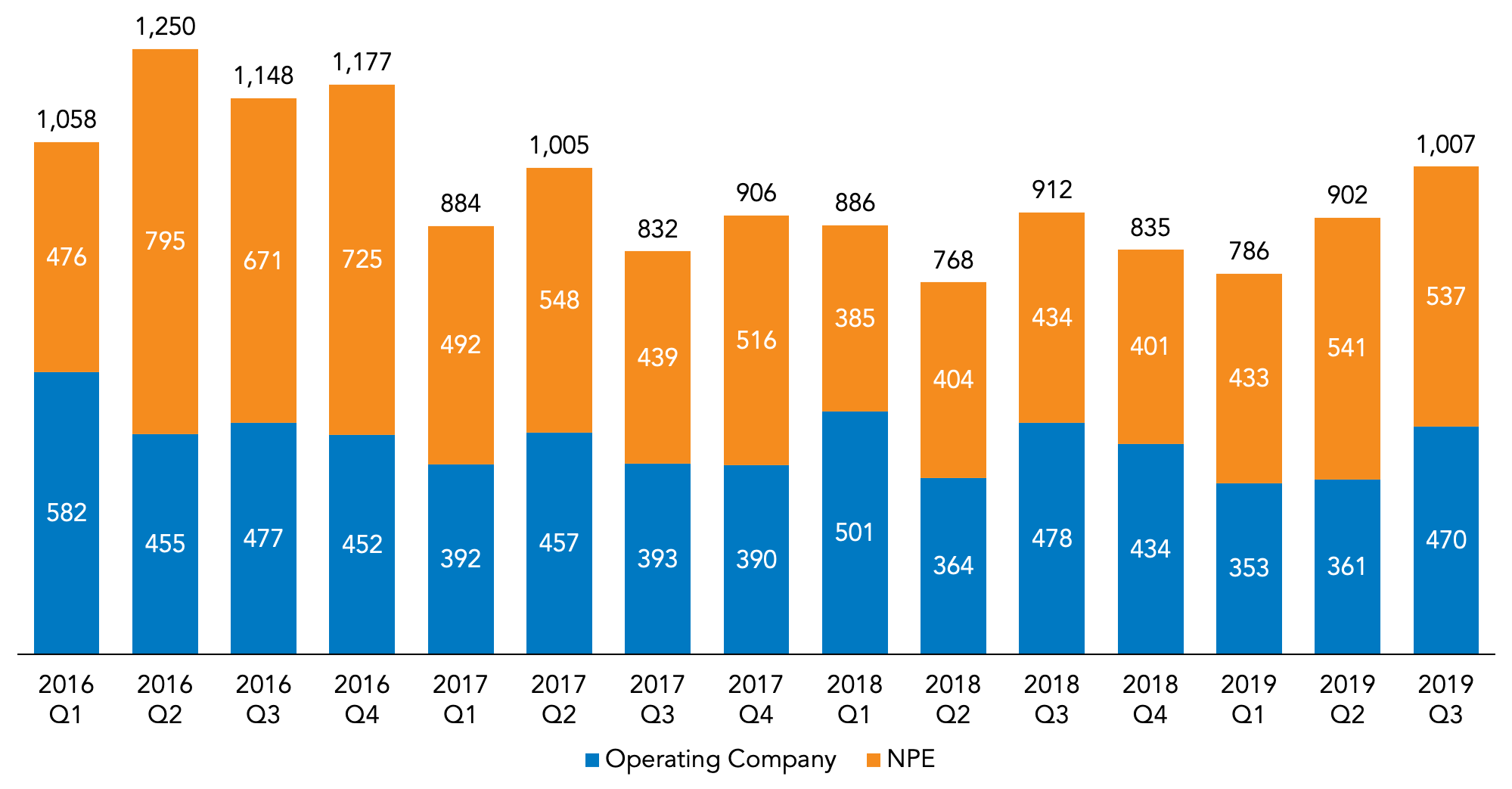 Venue Update: Delaware Stays the Top Patent District as West Texas Continues to Rise
In the third quarter of 2019, Delaware remained the most popular district for patent litigation overall and for NPE litigation, counted by defendants added to litigation campaigns. For operating company litigation, Delaware was overtaken for first place by the Northern District of Illinois, with the latter also holding the number-two spot for litigation overall. As in the previous quarter, the second-most popular district for NPEs was once again the Eastern District of Texas—previously the most favored district for such plaintiffs until the Supreme Court issued its decision in TC Heartland.
The Western District of Texas, meanwhile, jumped into the top five for operating companies for the first time, holding fourth place. It was also the fourth-most popular district for NPEs and the fifth-most popular district overall. That district has seen an increase in popularity since the late-2018 confirmation of District Judge Alan D. Albright, who has implemented a series of rule changes designed to encourage the filing of more patent litigation there.
Back to top
Patent Eligibility: Alice's Post-Berkheimer Decline Holds Steady as Courts Continue to Adjust
RPX data shows that Section 101 invalidation rates have remained significantly lower since the Federal Circuit's February 2018 decisions in Berkheimer and Aatrix, which held that dismissal under Alice may be premature where a party raises questions of fact as to a patent's inventiveness. While the overall district court invalidation rate was just over 68% before those decisions issued, counted by patents challenged and adjudicated under Alice, it has since dropped to less than half as of the end of the third quarter. The overall post-Berkheimer decline has held steady since the end of Q2, when invalidation rates were about the same as at the end of Q3.
Patents Invalidated Under Alice Before and After Berkheimer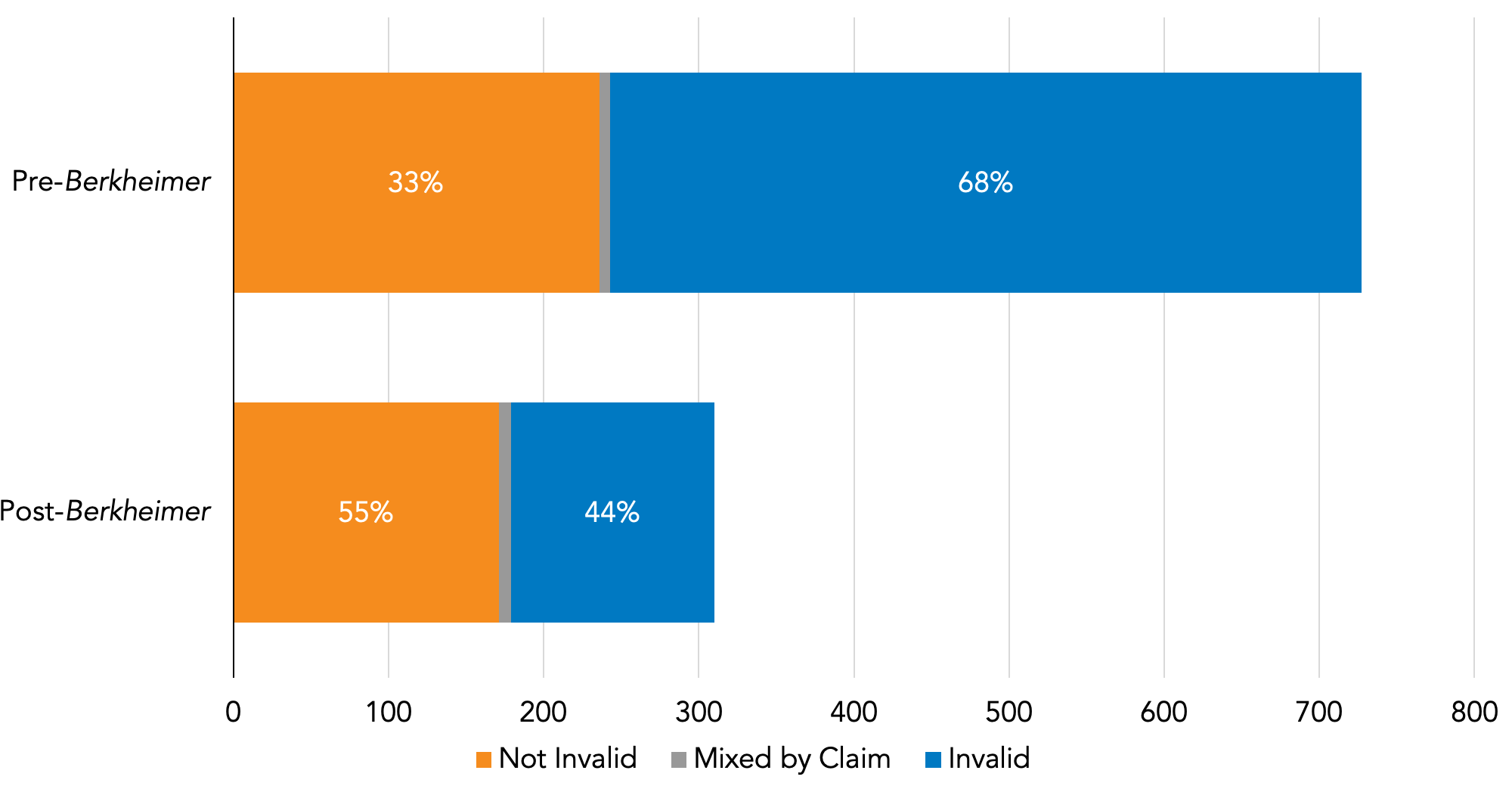 Patents Invalidated Under Alice Before and After Berkheimer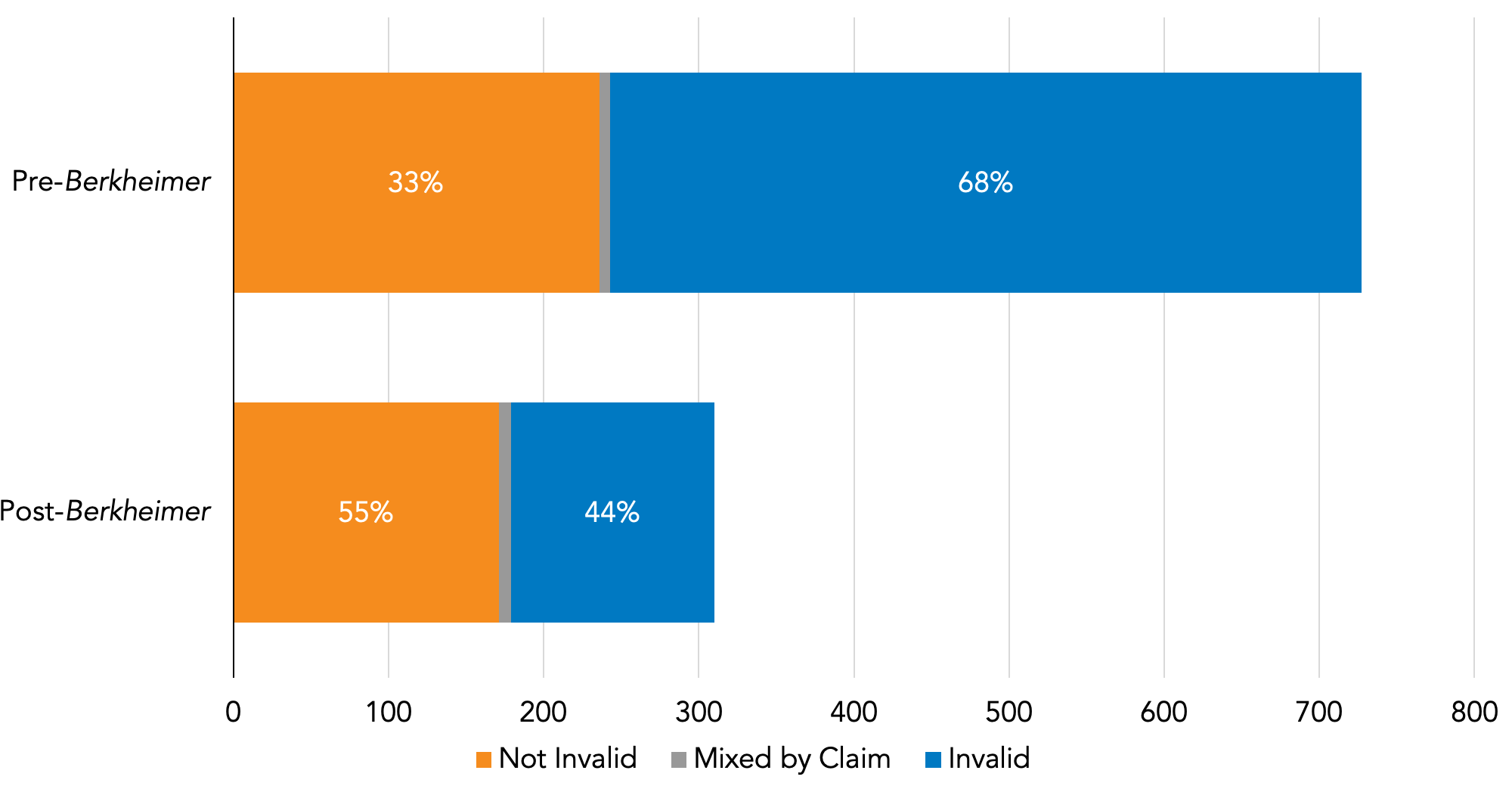 Some percentages add up to more than 100%, as patent claims occasionally see multiple Alice rulings with different outcomes. (For example, a claim may be found not invalid in one case and invalid in another.)
Some percentages add up to more than 100%, as patent claims occasionally see multiple Alice rulings with different outcomes. (For example, a claim may be found not invalid in one case and invalid in another.)
For Alice decisions issued after Berkheimer, the percentage of patents invalidated at the Rule 12 stage has also remained about the same since Q2—standing at just over 46% near the end of the third quarter, down from 70% before Berkheimer's issuance.
However, the post-Berkheimer invalidation rate at the summary judgment stage slightly declined in the third quarter, settling at around one third (dropping from 40% at the end of Q2 to 36%). That contrasts starkly with the summary judgment invalidation rate from the period before Berkheimer, when about 59% of patents saw at least some claims invalidated at that stage.
Patents Invalidated Under Alice Before and After Berkheimer by Procedural Stage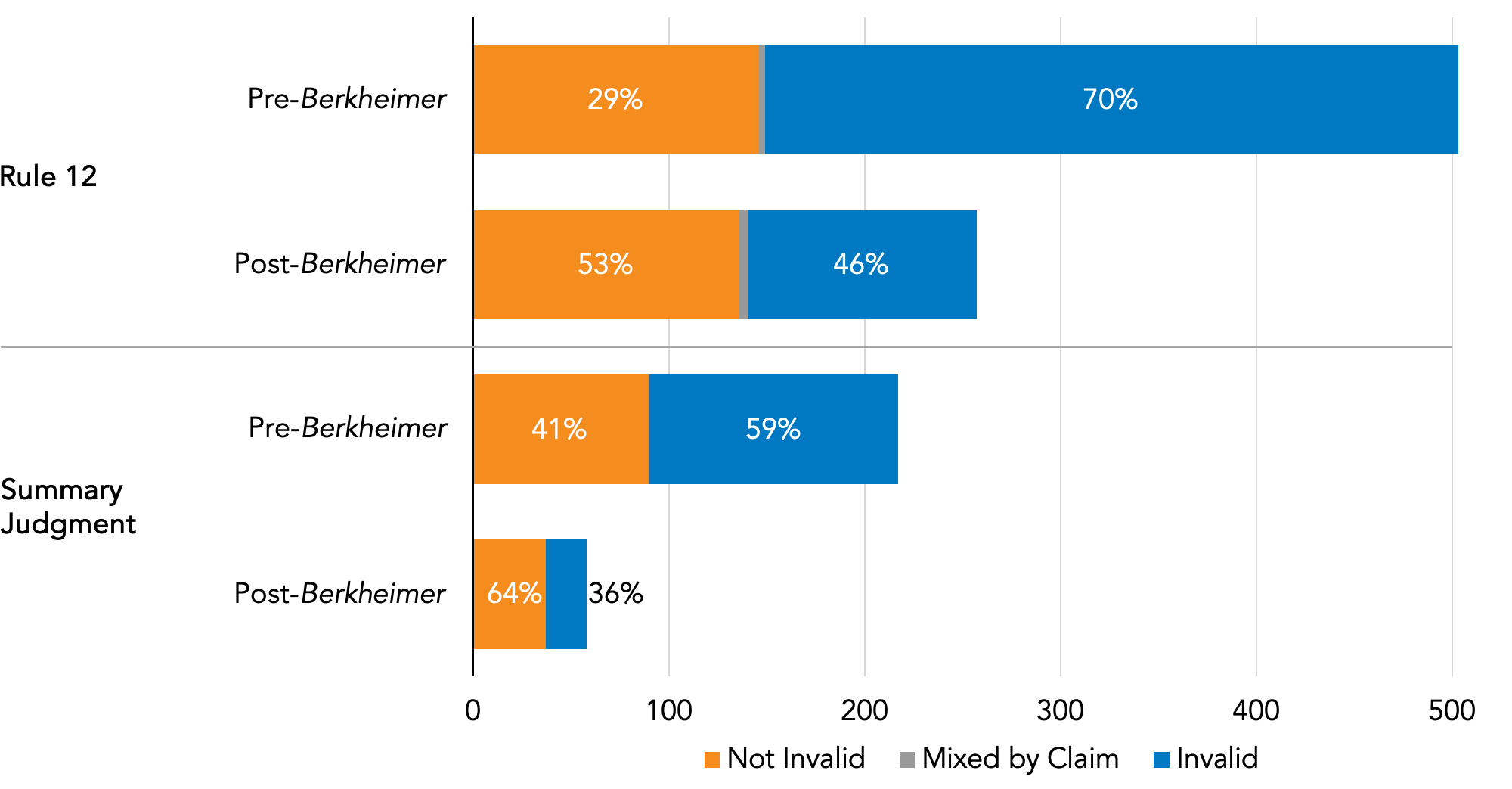 Patents Invalidated Under Alice Before and After Berkheimer by Procedural Stage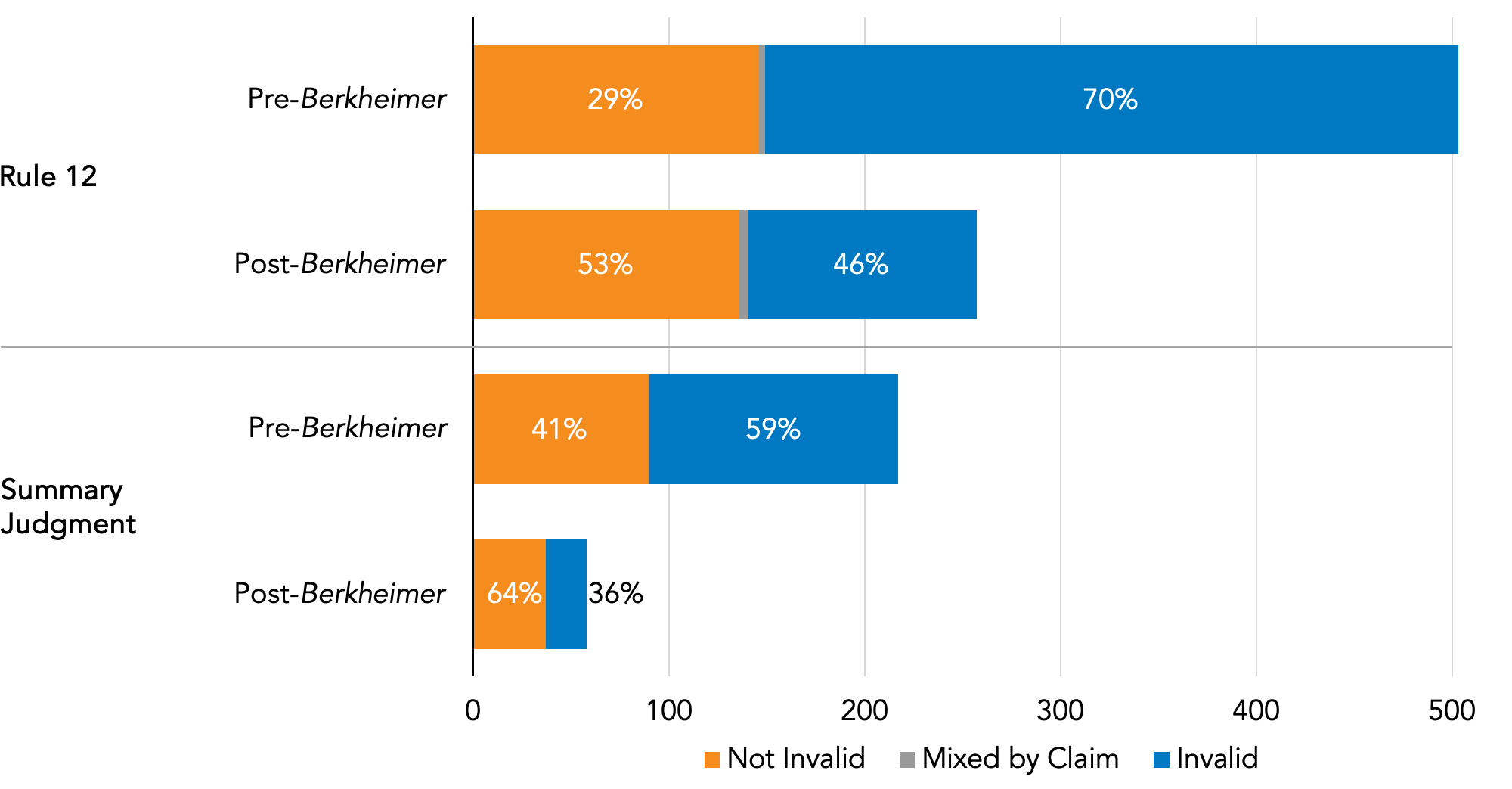 Section 101 Judicial Update: Refining the Metes and Bounds of Alice, Berkheimer, and Aatrix
Meanwhile, amidst the general downturn in Alice invalidation rates, Berkheimer and Aatrix have also continued to inform how courts apply Section 101. One particularly notable development in this arena occurred in early September in the Eastern District of Texas, when District Judge Rodney Gilstrap tasked a jury with determining whether a patent challenged under Alice involved subject matter that was "well-understood, routine, and conventional"—a factual issue underpinning Alice step two—after previously denying summary judgment under Berkheimer. After the jury answered in the affirmative, Judge Gilstrap invalidated the patent. This appears to be the first time that a court has based an Alice decision on jury factfinding, as detailed in a recent RPX analysis.
Additionally, the Federal Circuit introduced an additional requirement for courts applying Alice in its mid-August ruling in MyMail v. ooVoo, in which it held under Aatrix that when the parties raise a claim construction dispute at the Rule 12(c) stage, a court must either adopt the non-movant's proposed constructions or otherwise resolve the dispute before ruling on Alice. While any new restriction on courts' ability to decide Alice challenges may give defendants pause, the MyMail decision's impact is not yet clear—particularly since well before MyMail, courts have occasionally denied Alice motions without prejudice to renew when claim construction is needed to understand the nature of the patented invention.
Parties also continue to seek clarification on Section 101 issues from the US Supreme Court, which on October 1 denied certiorari for two petitions that both raised issues stemming from Berkheimer. One of those petitions, filed in Glasswall Solutions Limited v. Clearswift, asked two related questions. The first addressed the Federal Circuit's decision denying en banc review of Berkheimer, in which the court held that a "mere conclusory statement" of fact related to inventiveness would not be enough to preclude dismissal; the petitioner had sought clarification on what constitutes such a statement. Additionally, the petitioner asked if factual issues underpinning Alice challenges can be properly decided at the motion to dismiss stage. The second denied petition, filed in StrikeForce Technologies v. SecureAuth, asked the Supreme Court to apply in that case whatever standard it establishes in its review of Berkheimer, for which a petition for certiorari remains pending. In the latter appeal, the Court has requested the views of the Solicitor General, who has not yet filed that brief.
Back to top
PTAB Update: Petitions Tick Upward as Iancu Pushes Incremental Reforms
In the third quarter of 2019, 335 petitions for AIA review were filed with the PTAB, including 325 petitions for IPR, zero petitions for covered business method (CBM) review, and ten petitions for post-grant review (PGR). In total, these figures represent a 6.3% increase over the previous quarter and a 21% decrease from Q3 2018.
That increase comes as USPTO Director Andrei Iancu continues to implement a series of incremental reforms at the PTAB through the Board's Precedential Opinion Panel (POP), which was formed in September 2018 and has issued or designated 18 precedential decisions this year—nine since May alone. This steady drumbeat of incremental change may reflect Iancu's stated goal to reform the PTAB in order to "ensure balance, consistency and transparency, in order to increase confidence in the proceedings, and in order to make the patent system as a whole more effective, more efficient and more reliable".
Three of those precedential decisions have extended the Federal Circuit's August 2018 opinion in Click-to-Call, which held that for the IPR statutory time bar—which, in general, prevents the filing of an IPR more than one year after the date of service of a complaint—the one-year time bar begins to toll even when a complaint is dismissed without prejudice. The three precedential decisions clarified that in the PTAB's view, district court pleadings filed without standing still trigger the time bar (as held in GoPro v. 360Heros, a precedential opinion issued by the POP itself on August 23); that involuntary dismissals also trigger the time bar (as held in Infiltrator Water Technologies v. Presby Patent Trust, designated as precedential on September 9); and that a petitioner cannot file an IPR if it previously challenged that patent's validity in district court, with no exception for a declaratory judgment action dismissed without prejudice (as held in Cisco Systems v. Chrimar Systems, designated as precedential on August 29).
Other decisions have expanded the PTAB's discretion over AIA review proceedings, including several decisions designated as precedential that expand upon the Board's 2017 decision in General Plastic Industries v. Canon, which established a non-exhaustive list of factors that the PTAB may use to deny institution for "a petition that challenges the same patent as a previous petition". In August, the POP established through one such designation (in two IPRs filed by Valve against Electronic Scripting Products, Inc.) that the General Plastics factors extend to "any relationship" between petitioners. The POP has also flagged decisions affecting a variety of other substantive and procedural aspects of AIA reviews, including joinder, real-parties-in-interest, evidentiary guidelines, motions to amend, and substitute claims.
Back to top
Policy Update: Stakeholders Debate STRONGER Patents Act Amidst Wait for 101 Bill
A series of September Congressional hearings shined a spotlight on prominent legislative reform proposals that would dramatically reshape the US patent system. Stakeholders sparred over the potential impact of the STRONGER Patents Act—which would curtail IPR and effectively revoke the US Supreme Court's eBay v. MercExchange decision—as well as a bipartisan bill reforming patent eligibility that seeks to largely eliminate caselaw on Section 101, including Alice.
The STRONGER Patents Act
The debate over legislative patent reform continued to roil in Q3. In early July, Senator Chris Coons (D-DE) and five cosponsors introduced the latest version of the STRONGER Patents Act, following attempts to pass two prior iterations in 2015 and 2017. Among the bill's proposals are a series of significant changes to IPR, including one provision that raises the burden of proof for unpatentability from "preponderance of the evidence" to "clear and convincing evidence" as well as another that seeks to bar the institution of trial for claims that have been previously challenged in an instituted IPR, and for those held to be valid by a federal court. The Act would also impose more restrictive rules on standing, allowing only entities that have either been sued for infringement or threatened with a lawsuit to file an AIA review. In addition, the bill would have a sweeping impact on district court litigation by making it easier for plaintiffs to obtain injunctive relief, establishing a presumption that infringement causes "irreparable harm" and another that a remedy at law is inadequate—effectively overturning the Supreme Court's contrary decision in eBay.
A hearing held in September before the Senate Judiciary Committee's Subcommittee on Intellectual Property highlighted the divisions stemming from the proposed legislation. Notably, Senator Thom Tillis (R-NC), the Subcommittee Chairman, raised concerns over the bill's potential impact, expressing his view that eBay had been correctly decided and that its reversal could lead to abusive litigation practices. He also touted the benefits of the current IPR regime and worried that "by basically allowing only one bite at the apple at the PTAB . . . the many benefits IPR provided our patent system could be undermined". Senator Coons, the Subcommittee's Ranking Member, countered by arguing that repealing eBay was needed to restore the "steady erosion in patent rights" that had occurred over more than a decade, and asserted that the proposed changes to the PTAB are necessary to protect fledgling startups.
Witnesses testifying before the panel were, unsurprisingly, split on the merits of the STRONGER Patents Act and disagreed starkly with one another on its potential impact on the patent regime. Supporters of the eBay opinion echoed Senator Tillis's concerns about abuse, with one panelist arguing that its repeal could allow some patent owners to extract disproportionately high licensing revenue relative to their patents' value and another lauding the ruling as restoring equitable principles to that area of patent law. The criticisms of those in favor of the case's repeal argued that it was legally unsound as a matter of law with respect to remedies and as unmoored in the nation's judicial precedent. As for the PTAB, the bill's opponents expressed concerns that the proposed restrictions could block otherwise meritorious IPR petitions, while its supporters argued that the changes were a necessary check on what they viewed as the excesses of the PTAB. Senator Coons took note of the stark ideological divide among the hearing's witnesses, noting that some had directly contradicted one another in their characterizations of the state of the patent system—musing that "where you stand depends on where you sit".
Patentability Reform Legislation
After a flurry of activity during the summer, Congressional activity with respect to a planned bill addressing patent eligibility has slowed somewhat. In May, Senators Coons and Tillis introduced a draft bill that would eliminate all judicially created patentability exceptions, thereby eliminating cases like Alice and Mayo, and that would codify the presumption of eligibility as to Section 101. The bill would also amend the Patent Act—which currently allows patents on "any new and useful process, machine, manufacture, or composition of matter, or any new and useful improvement thereof"—to remove the word "new" and to add a definition for the term "useful", as "any invention or discovery that provides specific and practical utility in any field of technology through human intervention".
The bill would also broaden the scope of functional claiming under Section 112(f). While the current statute has been interpreted to impose a presumption that claims without "means for" and "step for" language will not receive means-plus-function treatment (see Williamson v. Citrix), the proposed legislation would eliminate that presumption—instead treating any element "expressed as a specified function without the recital of structure, material, or acts in support thereof" as means-plus-function. This would potentially make more patents subject to narrower construction under the constraints of 112(f), which could have the effect of strengthening noninfringement arguments based on functional claiming.
As discussed in RPX's second-quarter review, that draft bill sparked a fierce debate among stakeholders at a series of June hearings, with opponents urging Congress to be mindful of Alice's beneficial impact in helping defendants more easily get out of meritless lawsuits and its supporters asserting that Alice has hampered litigation. Critics from the biopharma sector raised concerns that the bill as then drafted could allow patents on genes by abrogating the Supreme Court's opinion in Myriad—a concern expressed fervently by the ACLU in a June letter to members of Congress.
Senators Coons and Tillis subsequently promised to revise the bill to reflect feedback from those hearings, but that draft has not yet been released to the public. To the contrary, as reported by Bloomberg, access to a more recent draft of the bill has been largely restricted, with only a few select stakeholders allowed to review it for brief periods (and without being able to take notes). IAM has characterized the updated draft as effectively codifying Myriad in response to the concerns mentioned above, and as adding language addressing Section 112(a) in an effort to further tackle overly broad claiming. The bill's current prospects are reportedly uncertain in the present climate.
Back to top
Marketplace Update: Two Public NPEs Make a Comeback, as a Native American Tribe Stockpiles Patents
As reported repeatedly by RPX over the past year, Acacia Research Corporation's litigation efforts are picking back up following a comprehensive leadership change trigged by activist investors in 2018. After filing new litigation in a number of existing campaigns, the publicly traded NPE launched its first new campaign in over four years in late September via a newly created subsidiary, Targeted Radio LLC, asserting two patents related to location-based, mobile "Internet radio" advertising. Acacia may already have at least one additional, new campaign in the pipeline, as USPTO records reflect the internal transfer of a set of semiconductor patents originating with Fairchild Semiconductor and Micron—from Acacia's In-Depth Test LLC to newly formed ID Image Sensing LLC—earlier in September.
The third quarter also saw Quarterhill Inc. launch its first new campaign of 2019 through subsidiary Adaptive Streaming Inc., which in late July began asserting a single patent from a portfolio generally related to adaptive bitrate streaming. Quarterhill's litigation arm, Wi-LAN Inc. (WiLAN), announced earlier in July that Adaptive Streaming had acquired the patents from Vidiator Enterprises, "a pioneer in the delivery of audio and video data". However, subsequently released assignment records reveal that the portfolio had actually been assigned from Vidiator to WiLAN (not Adaptive Streaming) back in May 2018, with WiLAN passing the patents to Adaptive Streaming in May 2019. Additionally, USPTO records not made public until Q3 have revealed Quarterhill's acquisition of two semiconductor portfolios in late 2018 and early 2019—by subsidiaries Alsephina Innovations, Inc. and Columba Technologies, Inc.—suggesting that more litigation may soon be coming.
RPX also continued to track the divestiture of former IV patents during the third quarter, with one suggesting that a Native American tribe may be gearing up to file litigation. After receiving a patent portfolio directly from IV late last year, the Three Affiliated Tribes of the Fort Berthold Reservation, North Dakota acquired a second portfolio of IV assets in August, this one by way of a deal with a different Native American tribe. The assignment was closely followed by another notable acquisition by the Three Affiliated Tribes—this one involving a group of patents developed by Pantech. While the tribe has not launched a campaign of its own, its subsidiary MEC Resources, LLC—the same entity that just acquired the Pantech portfolio—took over an existing litigation campaign from NPE Prowire LLC in 2017, as the debate over tribal sovereign immunity from IPR was gaining steam. See here for more details.
Additional RPX Patent Market Intelligence
For further analysis and up-to-date information on patent litigation and market trends, visit RPX Insight.
Back to top