Patent law faces continued uncertainty in all three branches of government. The Supreme Court's TC Heartland decision in May likely precipitated a dip in new patent litigation that carried unevenly through the third quarter. While litigation remains slow overall, plaintiffs have begun to test the bounds of TC Heartland by bringing novel venue arguments in the Eastern District of Texas and by charting new courses in Delaware, California, and Illinois. On the other hand, the tables could turn: the Court granted certiorari in Oil States in June, casting the continued existence of inter partes review (IPR) into doubt. Though most commentators discount petitioner Oil States's likelihood of success, even the slightest potential for victory is a ray of hope for patent owners.
Compounding the uncertainty engendered by TC Heartland and Oil States is the debate over Senator Chris Coons's STRONGER Patents Act, which, among other changes, would drastically curtail the speed, power, and availability of IPR and bring back the prospect of injunctive relief in litigation. Likewise, the confirmation process for Andrei Iancu as the nominee for USPTO Director may reveal whether he intends to address calls for administrative reform to IPR. The fourth quarter may provide some early signs of each change's potential impact.
Meanwhile, district courts continue to adjust to the uncertainty by revising how they approach venue in the wake of TC Heartland. Filings with the Patent Trial and Appeal Board (PTAB) have also dipped slightly, perhaps in cautious anticipation of a sea change in Oil States, however unlikely. Certain NPEs have struggled to make payments on debt as their previous campaigns wither in this turbulent environment.
Despite the ever-changing landscape, patent transactions continue to offer leading indicators of possible future litigation. Likewise, USPTO data show that new 2017 patent applications for the agency's fiscal year, ending in September, should finish roughly at the same level in 2017 as in 2015 and 2016, while patent grants continue to rise. Both trajectories suggest that innovators continue to see value in the patent system's future, notwithstanding its present flux.
Third-Quarter Litigation Volume
The third quarter saw just over 430 new defendants added to NPE lawsuits, a 17% decrease from the average of 520 in the first two quarters. This brings 2017 to a total of 1,470 defendants added by NPEs through the first three quarters, down just over 25% from the same period in 2016.
For their part, operating company plaintiffs added 356 new defendants, down 15% from the average of 420 in the first two quarters of the year. Likewise, this brings 2017 to a total of 1,195 defendants added by operating companies through the first three quarters, down just over 24% from the prior year.
Back to top
Venue Activity After TC Heartland
Since the US Supreme Court's May 22 decision in TC Heartland, the District of Delaware has pulled ahead of the Eastern District of Texas, historically the overwhelming favorite venue for NPE plaintiffs. The Eastern District once accounted for more than 50% of new NPE filings; it now accounts for only 26%. The data also show an uptick in complaints filed by NPEs in the Central and Northern Districts of California as well as the Northern District of Illinois. By contrast, operating company litigation remains spread across a handful of ever-popular districts.
Top 5 Districts for Cases Filed Since TC Heartland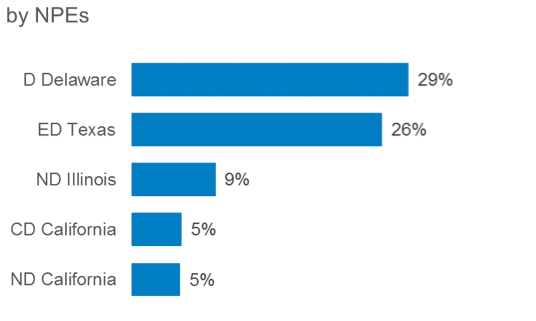 Top 5 Districts for Cases Filed Since TC Heartland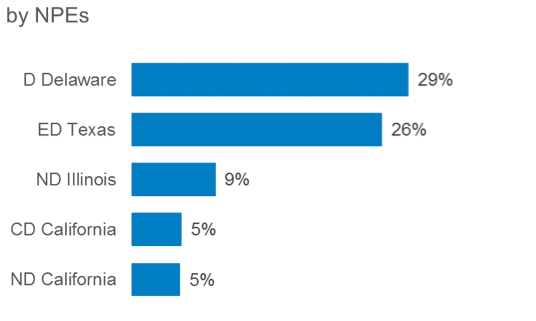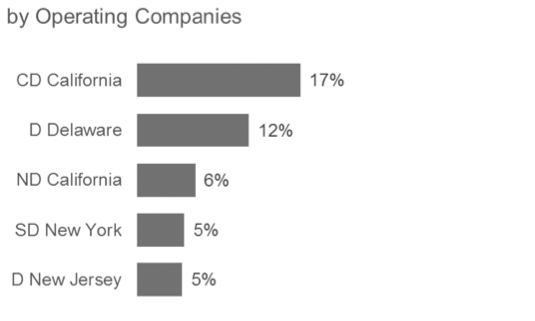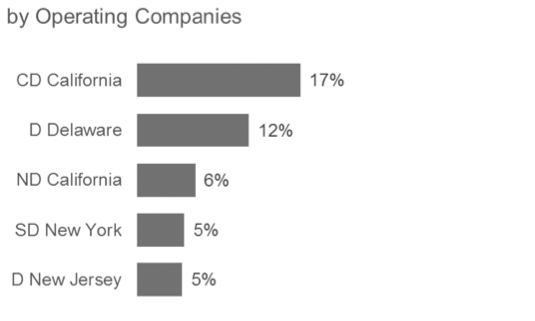 Location, Location, Location
While the initial flurry of venue-related activity after TC Heartland focused on the portion of the patent venue statute allowing suits to be filed wherever a corporate defendant "resides"—which the Supreme Court held to mean wherever the defendant is incorporated, returning to an earlier definition of that term—RPX has also seen an increase in venue motions that cite to the second prong of the patent venue statute. Under that second prong, venue is proper in any district where the defendant has a "regular and established place of business" and "has committed acts of infringement".
In June, District Judge Rodney Gilstrap of the Eastern District of Texas established a four-part, "totality of the circumstances" test laying out relevant factors for courts to consider in evaluating whether a defendant has a "regular and established place of business" in his district. On September 21, the Federal Circuit overturned Gilstrap's test in In re Cray, ruling that he had abused his discretion by deviating too far from the text of the venue statute. See here for more information on that decision.
Earlier in September, Delaware's Chief District Judge Leonard Stark issued his own guidance on the "regular and established place of business" prong, holding that while a defendant does not have to have a fixed space like a "formal office or store", a defendant must have some sort of "physical presence" in the district, one that is "permanent and continuous" as required under the Federal Circuit's decision in In re Cordis. Judge Stark clarified that it is not enough that a defendant is merely registered to do business in the district, runs a website that allows consumers to purchase its goods within a given district, or simply ships goods into the district.
For now, at least, post-TC Heartland venue cases appear to have limited the number of districts in which a given defendant has a true physical "presence" and not simply a customer base or a shipping nexus for its products.
Back to top
PTAB Filings Dip as Oil States Looms
The PTAB saw 392 petitions for AIA review in the third quarter (381 IPRs, 1 covered business method review, and 10 post-grant reviews), down from 468 petitions filed in Q2 and 566 petitions filed in Q1. The slowdown may be due to the pending Oil States case, in which the Supreme Court will address whether IPRs violate the right to a jury trial under the Seventh Amendment and whether patent rights can be invalidated in a non-Article III court. (See here for more information on the Oil States petition and related briefing.) A decision in favor of Oil States could eliminate IPR process altogether and reverse its dramatic effect on the tactics of patent litigation. That said, most commentators suggest that such an outcome is unlikely. The impending oral arguments should give some indication of the Court's view.
Notwithstanding the uncertainties posed by Oil States, IPRs remain a popular tool, particularly in campaigns where file-and-settle litigation tactics might otherwise prevent the adjudication of validity before a district court.
On July 6, the PTAB issued a final decision in an IPR (IPR2016-00443) against Rothschild Connected Devices Innovations, LLC (RCDI) filed by RPX as part of its Patent Quality Initiative. The Board cancelled all eight challenged claims from the patent at issue. RCDI, one of a variety of active NPEs controlled by inventor Leigh M. Rothschild, first began filing litigation in February 2015 and has since sued more than 60 consumer product manufacturers, including providers of home security systems and connected home electronics as well as multiple automakers.
The PTAB's decision came shortly after another setback for RCDI in June, when the Federal Circuit reversed District Judge Rodney Gilstrap's denial of attorney fees in the NPE's failed suit against ADS Security. The Federal Circuit ruled that RCDI had willfully ignored evidence that the patent at issue was invalid and that it had engaged in a pattern of "vexatious litigation", also holding that District Judge Rodney Gilstrap had erred by relying on dubious statements by Rothschild and his counsel in his decision. For more information, see "Federal Circuit Reverses Texas Judge in Rothschild Attorney Fee Dispute" (June 2017).
Yet these setbacks appear not to have deterred Rothschild, who launched two new litigation campaigns during the quarter, one in August through Coding Technologies, LLC and another in September through Electronic Receipts Delivery Systems LLC, while continuing a third with a new plaintiff, RFID Technology Innovations, LLC. Entities controlled by Rothschild added 33 defendants in Q3 alone, and the inventor remains one of 2017's most active NPE plaintiffs, surpassed only by IP Edge LLC:
Most Active NPEs in 2017
| | |
| --- | --- |
| Plaintiff | Defendants Added |
| IP Edge LLC | 269 |
| Leigh M. Rothschild | 115 |
| Monument Patent Holdings, LLC | 71 |
| SportBrain Holdings LLC | 49 |
| IP Valuation Partners LLC | 40 |
Back to top
Fortress Financing Deals Plague Struggling NPEs
The third quarter saw another publicly traded NPE, Marathon Patent Group, Inc., continue to struggle under the weight of a financing agreement with Fortress Investment Group LLC. Facing an August 15 deadline to repay Fortress $16 million, Marathon announced on August 4 that it plans to transfer three of its patent portfolios to Fortress instead. Marathon has not initiated any new patent litigation in the US since 2015, but in 2016, its TLI Communications GmbH subsidiary filed cases against Pinterest and Yahoo in France, Germany, and Italy.
Marathon's financial difficulties echo those of Inventergy Global, Inc., which signed its own restructuring deal with Fortress in late 2016 when it failed to make scheduled payments on $10M of debt. In May, Inventergy announced that it was handing over 740 telecommunication patents to a special purpose entity named INVT SPE LLC, managed by a Fortress affiliate. This followed the assignment of approximately 160 patent assets to INVT SPE in late April.
In mid-August, Crossroads Systems, Inc., a publicly traded NPE also financed by Fortress, announced that it had filed for bankruptcy, just over two months after the Federal Circuit upheld the PTAB's invalidation of three patents asserted in its sole active campaign. See here for more information on Fortress's involvement with Crossroads, Marathon, and Inventergy.
Notable Patent Assignments Suggest Future Litigation
Patent assignments of note during the third quarter include the September 13 assignment of 23 patents and two applications from Altaba Inc. (formerly known as Yahoo! Inc.) to Eureka Database Solutions, LLC, an affiliate of Monument Patent Holdings, LLC. This transaction continues a series of patent acquisitions made by Monument over the past few months, during which time it has formed new NPEs in Texas, including Local Intelligence, LLC; Portal Communications, LLC; and Precision Timing, LLC. For more information on various recent assignments that portend impending litigation, see here.
In August, RPX saw the recordation of an assignment of a single LED patent from Cirrex Systems to CRX Tech, LLC, a Texas NPE that subsequently asserted the patent against Samsung. Texas state records list CRX Tech's managing member as Luxembourg entity Luxone Ventures S.à r.l. Documents filed with Luxembourg's business registrar show that IPNav founder Erich Spangenberg acquired 12,500 shares in Luxone Ventures from CAPITAL4IP, a Luxembourg-based investment firm, in February.
Compared to the US, Europe sees fewer NPE litigations. Still, patent assignments abroad hint at future litigation by active NPEs. For instance, in August, RPX noted the recordation of a June assignment of two patent applications from a group of inventors to notable European patent plaintiff IPCom GmbH & Co KG. As previously reported by RPX, IPCom is based in München, Germany and was formed in 2007 by German patent attorney Bernard Frohwitter with financing from Fortress. Though IPCom was initially created to acquire a portfolio of cellular communications patents from Bosch GmbH, where Frohwitter previously served as a licensing executive, at least one of the inventors named on the two applications in the June assignment appears to be an IPCom employee and IPCom is listed as the applicant for both.
RPX continuously monitors patent litigation filings and decisions, the formation of new NPEs, and patent transactions along with related legal and policy developments. For more information on the features and content available on RPX Insight, see here.
Back to top