NPEs added 786 defendants to patent litigation campaigns in the first half of 2023, a 34% decrease from that same period last year (when NPEs added 1,188 defendants). Operating company litigation, in contrast, held fairly steady in the first half of this year, at 538 defendants added—exceeding 1H 2022 by 18 defendants (or 4% greater).
NPE and Operating Company Litigation (Defendants Added)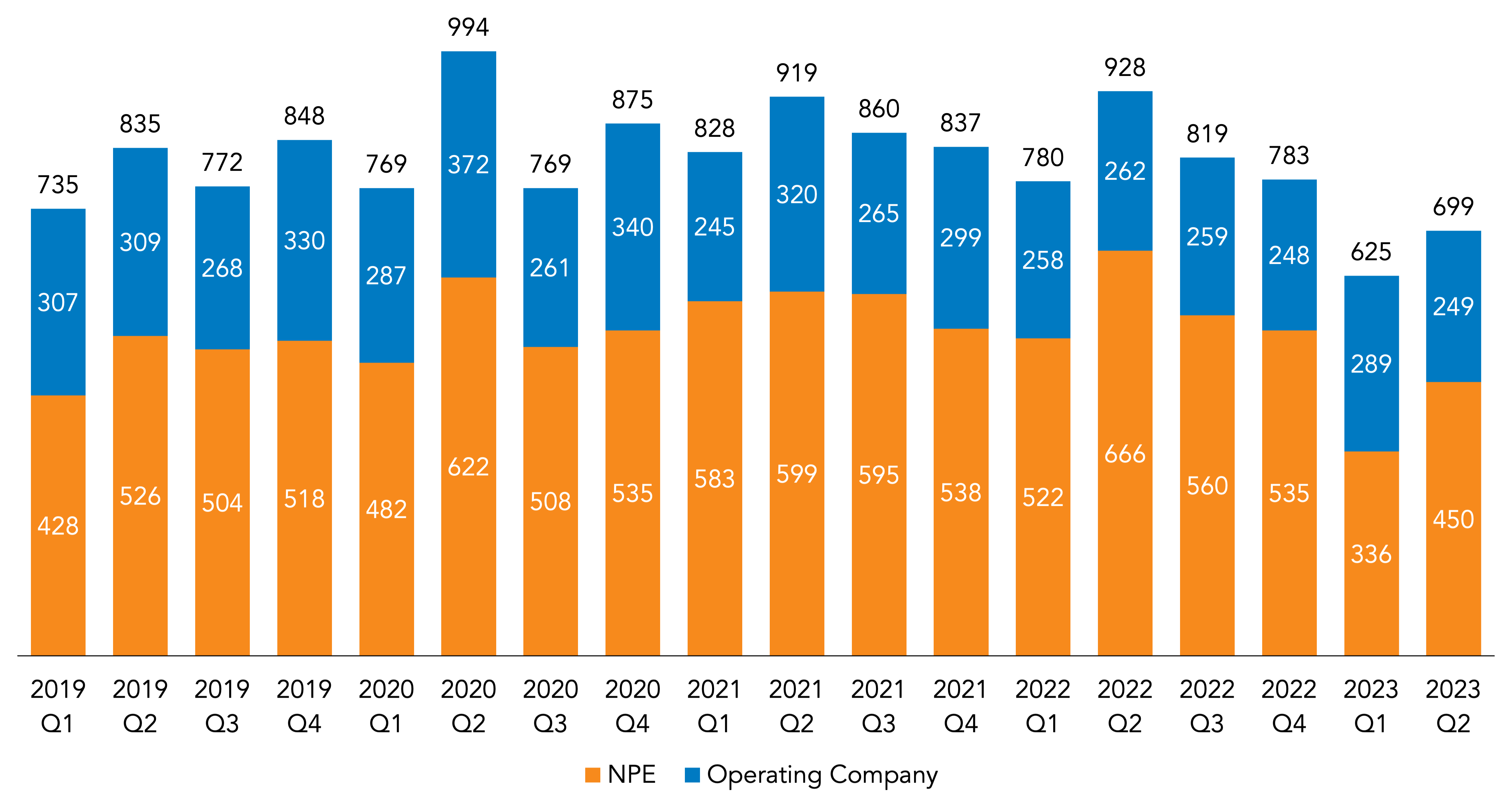 NPE and Operating Company Litigation (Defendants Added)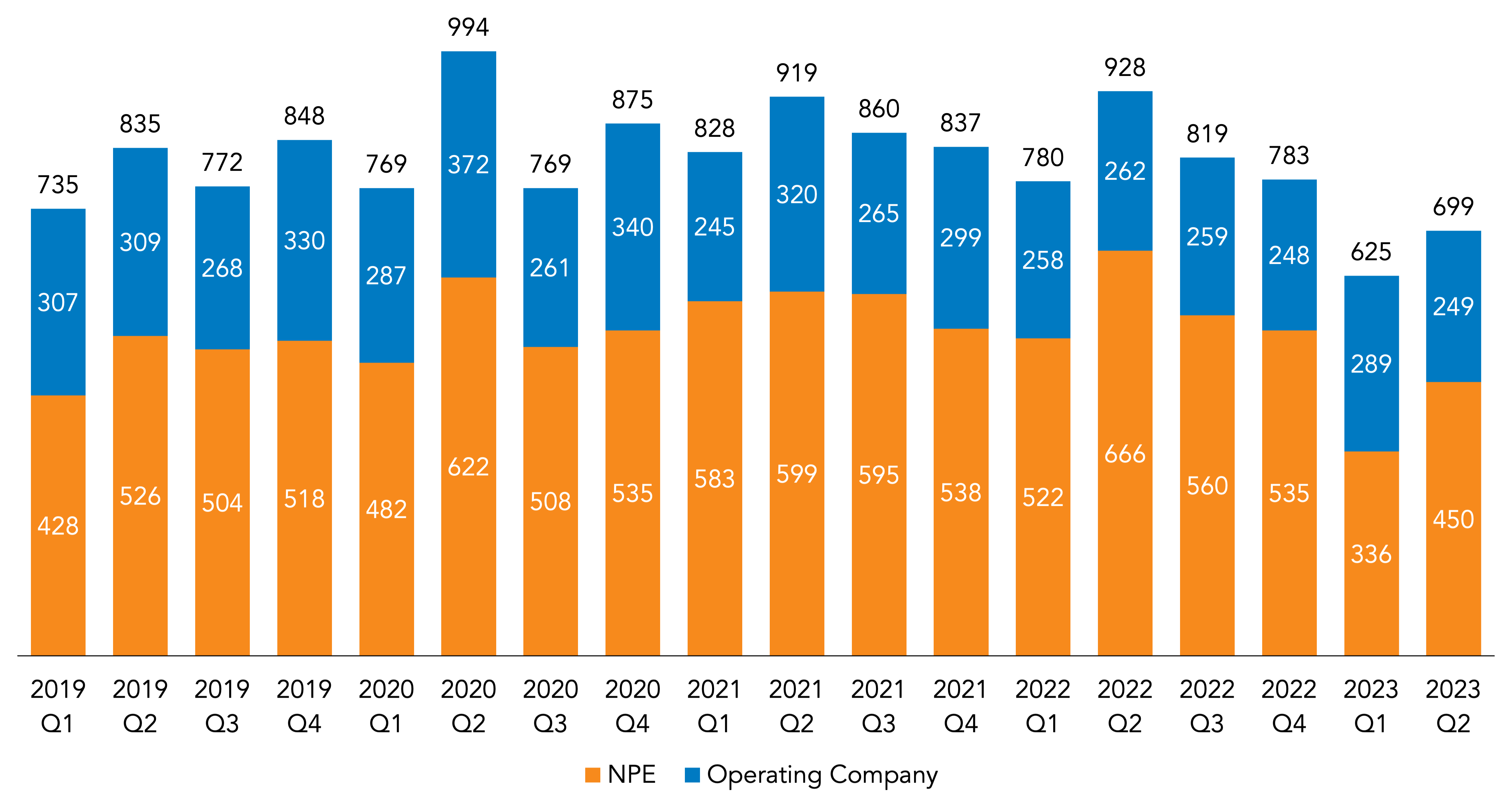 In the second quarter of 2023, NPEs added 450 defendants to patent campaigns, a decrease of 216 (32%) compared to Q2 2022, when NPEs added 666 defendants. NPE litigation was 28% below the trailing three-quarter average for 2020-2022 but 34% more than in Q1 2023.
Operating companies added 249 defendants in Q2, which was just 5% lower than the year-ago quarter, though it fell short of the trailing three-quarter average by 22% and lagged behind Q1 by 14%.
Defendants Added
Change Compared to:
Q2 2023
 
Q2 2022
Q2 2020-2022 Average
Q1 2023
NPE
450
-32%
-28%
34%
Operating Company
249
-5%
-22%
-14%
Total
699
-25%
-26%
12%
Two primary developments continued to drive the decline in NPE litigation through the first half of the year. The most significant was a pause in litigation by patent monetization firm IP Edge LLC, which used to be the most prolific plaintiff by a large margin but stopped filing new litigation in December 2022—apparently as a result of still-ongoing pressure from Delaware Chief Judge Colm F. Connolly over disclosure rules that he imposed in his courtroom in April 2022 (as detailed further below). IP Edge usually added 50 defendants per month before that pause, so while it added 302 defendants in the first half of 2022, there were virtually none in 1H 2023 (apart from a single refiled complaint in one IP Edge campaign that was quickly dismissed). Put another way, three quarters of the decline in NPE litigation during that period (or 301 out of a drop of 402 defendants) is attributable to IP Edge alone. Excluding IP Edge, NPE litigation in 1H 2023 was down by just 11% compared to the same period a year ago.
The second development was a downturn in the Western District of Texas—in particular, within the Waco Division, which has experienced a drop in newly filed NPE litigation in the wake of a July 2022 standing order designed to undercut the concentration of patent cases before District Judge Alan D. Albright. Filing rules previously allowed plaintiffs to target his courtroom by letting them bring cases directly in Waco (where Judge Albright is the only district judge), but the July order required patent filings in that division to be randomly assigned among a group now consisting of 11 judges in total (including Judge Albright). While the district has since taken to assigning new cases in existing campaigns (those with the same parties and patents) to the previously presiding judge, meaning that Judge Albright has gotten the lion's share of new cases in those "legacy" campaigns, assignment of suits filed in entirely new campaigns has been far more random. This dispersion has apparently undercut the district's overall appeal for NPE plaintiffs, which added 187 defendants in Waco in 1H 2023, compared to 400 in 1H 2022 (a 53% drop).
Added together, the reductions from IP Edge and in Waco (457 defendants in total, adjusting for the overlap in IP Edge and Waco cases) accounted for 100% of the decline in NPE activity in the first half of the year and then some. The story was similar in Q2 2023, when IP Edge's pause and the drop in Waco filings were, in combination, responsible for over 100% of the decline compared to the year-ago quarter.
See RPX's second-quarter review for more on patent litigation trends in Q2 and the first half of the year.
Back to top